Reconstruction Updated Edition: America's Unfinished Revolution, 1863-1877 (Paperback)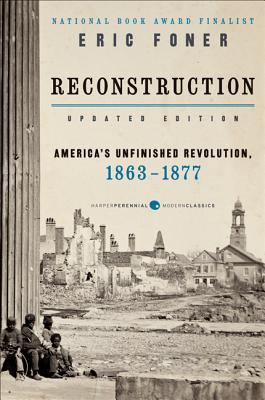 $25.99

Usually Ships in 1-5 Days
Description
---
From the "preeminent historian of Reconstruction" (New York Times Book Review), the prize-winning classic work on the post-Civil War period that shaped modern America.
Eric Foner's "masterful treatment of one of the most complex periods of American history" (New Republic) redefined how the post-Civil War period was viewed.
Reconstruction chronicles the way in which Americans—black and white—responded to the unprecedented changes unleashed by the war and the end of slavery. It addresses the ways in which the emancipated slaves' quest for economic autonomy and equal citizenship shaped the political agenda of Reconstruction; the remodeling of Southern society and the place of planters, merchants, and small farmers within it; the evolution of racial attitudes and patterns of race relations; and the emergence of a national state possessing vastly expanded authority and committed, for a time, to the principle of equal rights for all Americans.
This "smart book of enormous strengths" (Boston Globe) remains the standard work on the wrenching post-Civil War period—an era whose legacy still reverberates in the United States today.
About the Author
---
Eric Foner is DeWitt Clinton Professor of History at Columbia University and the author of several books. In 2006 he received the Presidential Award for Outstanding Teaching at Columbia University. He has served as president of the Organization of American Historians, the American Historical Association, and the Society of American Historians. He lives in New York City.
Praise For…
---
"This is history written on a grand scale, a masterful treatment of one of the most complex periods of American history." — New Republic
"The [book's] rewards stem from Foner's deep understanding of the literature of the period and his ability to draw freely from it, so that his arguments sprout in deep soil; and from his disciplined imagination, which neither approves nor condemns, but characterizes, and at its best dramatizes situations, preserving and savoring their possibilities, so that the betrayal of Reconstruction with a terrible poignancy." — Theodore Rosengarten, The Nation
"With this book, Mr. Foner becomes the preeminent historian of Reconstruction." — New York Times Book Review
"[Reconstruction] may very well turn out to be this generation's defining interpretation of this most misunderstood passage in the nation's history." — Wall Street Journal
"A remarkable clarity is one of the many beauties of this book that dwells on so many conflicts and ambiguities . . . Foner's Reconstruction is a smart book of enormous strengths." — Boston Globe
"Eric Foner has put together this terrible story with greater cogency and power, I believe, than has been brought to the subject heretofore." — New York Review of Books
"Foner's book traces in rich detail the bitter course of the history of the South's failure to adjust to the revolution that brought the Civil War. Only by tracing that history and understanding can the region fully disenthrall itself even today. No book could be more timely. " — Atlanta Constitution
"Foner's book brings to distinguished fruition one great cycle of Reconstruction historiography." — New York Review of Books