I'll Show Myself Out: Essays on Midlife and Motherhood (Paperback)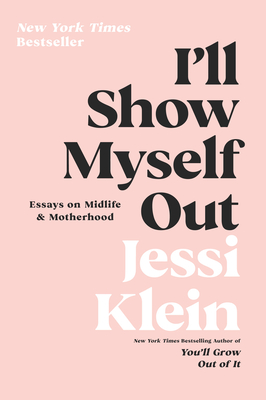 $18.99

Usually Ships in 1-5 Days
Description
---
An instant New York Times bestseller, I'll Show Myself Out is the eagerly anticipated second essay collection from Jessi Klein, author of the acclaimed debut You'll Grow Out of It.
Longlisted for the PEN Diamonstein-Spielvogel Award for the Art of the Essay
"Sometimes I think about how much bad news there is to tell my kid, the endlessly long, looping CVS receipt scroll of truly terrible things that have happened, and I want to get under the bed and never come out. How do we tell them about all this? Can we just play Billy Joel's We Didn't Start the Fire and then brace for questions? The first of which should be, how is this a song that played on the radio?"
In New York Times bestselling author and Emmy Award-winning writer and producer Jessi Klein's second collection, she hilariously explodes the cultural myths and impossible expectations around motherhood and explore the humiliations, poignancies, and possibilities of midlife. 
In interconnected essays like "Listening to Beyoncé in the Parking Lot of Party City," "Your Husband Will Remarry Five Minutes After You Die," "Eulogy for My Feet," and "An Open Love Letter to Nate Berkus and Jeremiah Brent," Klein explores this stage of life in all its cruel ironies, joyous moments, and bittersweetness.
Written with Klein's signature candor and humanity, I'll Show Myself Out is an incisive, moving, and often uproarious collection.
About the Author
---
Jessi Klein is the author of You'll Grow Out of It and the Emmy and Peabody award-winning head writer and an executive producer of Comedy Central's critically acclaimed series Inside Amy Schumer. She is an actor and consulting producer on the hit Netflix show Big Mouth, and has also written for Netflix's Dead to Me and Amazon's Transparent as well as Saturday Night Live. Klein has been featured on the popular storytelling series The Moth, and has been a regular panelist on NPR's Wait Wait...Don't Tell Me! Her work has been published in the New York Times, the New Yorker, GQ, and Cosmopolitan, and she has her own half-hour Comedy Central stand-up special. She lives in Los Angeles with her family. 
Praise For…
---
"Poignant and brutally honest. . . will make you laugh out loud." — Washington Post, "The Best Feel-Good Books of the Year"
"A laugh-out-loud book of essays. . . . strikes gold. . . . Klein's comedic sensibilities and abundant care for women make her the ideal writer to square off against the obligations and judgments placed on mothers. . . . an instant classic." — Glamour
"Comedian Jessi Klein delivers a necessary laugh for parents just beginning to emerge from the dumpster fire otherwise known as pandemic parenting. . . . grapples with the humiliations and possibilities of midlife and motherhood, from impossible car seats to equally befuddling 'Mama' necklaces. Even the essay titles are funny." — Time Magazine
"Her humor and insights are spot-on." — People, "The Best New Books"
"Achingly funny." — Esquire, "The 8 Best Comedy Books of the Year"
"Brutally honest and so very human." — Vulture, "The Best Comedy Books of the Year (So Far)" 
"Jessi Klein is back with an unflinchingly honest and hilarious memoir about navigating the absurdly high expectations of being both a mom and a woman. . . . I'll Show Myself Out will not only make you laugh but also, and most importantly, think, 'Hmm, so it's not just me.'" — Shondaland
"Jessi Klein has yet again 'delivered' (and yes I'm using that in the messy motherhood-pun way—I'm not the writer) a collection of the most relatable, achingly raw, and stunningly human essays I have read about the mess of motherhood and this chapter of life since her last collection. And… they are of course hilarious. THANK YOU JESSI for this gift. Please read it, mothers. It is nourishment." — Kathryn Hahn
"Jessi Klein's essay collection spoke to the deepest part of my soul and being. Her framing of motherhood as a 'hero's journey' made me weep from feeling seen. I also howled with laughter so many times I was politely asked to leave a restaurant. It's a perfect book."
— Casey Wilson, New York Times bestselling author of The Wreckage of My Presence
"I'll Show Myself Out is so pee-in-the-pants funny, I made sure to wear period underwear while reading it. Insanely smart and wildly relatable, Jessi Klein's highly anticipated second book is the most entertaining thing I've read in a long time."
— Ali Wong, New York Times bestselling author of Dear Girls
"Jessi Klein has once again arrived with a collection of essays so familiar to me, it's like she has been directly inside my brain. Smart, bold, and uproariously funny. It's a 10/10 from me." — Kate Baer, #1 New York Times bestselling author of What Kind of Woman and I Hope This Finds You Well
"[Klein] is gifted at turning the day-to-day minutiae into comedy gold, while simultaneously pulling back to lend commentary (often searing commentary) on the larger picture. A lot of her writing reminds me of David Sedaris, the way you find yourself laughing your ass off as you read along, and then suddenly you're like why is my heart in my throat?" — Jenny Rosenstrach, New York Times bestselling author of The Weekday Vegetarians and Dinner: A Love Story
"A bold and irreverent collection. . . . Klein is full of surprises, and moments of hilarity often dissolve into unexpected glimpses of joy. . . . Funny, clever, and full of heart, this one's a gem." — Publishers Weekly (starred review)
"Klein isn't here to make motherhood look pretty, but she ends up making it look pretty great in the truest sense of the word, mixing laughs with poignancy and treating heavy topics with a brightening kind of honesty." — Booklist
Praise for You'll Grow Out of It: "A book like Jessi Klein's YOU'LL GROW OUT OF IT comes along to remind us just what an artful confessional essay can do." — New York Times
"Is it really a surprise that comedian Jessi Klein, head writer and executive producer for Inside Amy Schumer, would write a book of personal essays brimming with sharp observations and insights and poignant recollections but that above all is very, very funny? ...We guarantee that this book will quickly become one of your summer favorites." — Entertainment Weekly
"[Jessi Klein's] astute, hilarious essays about the perilous path to modern womanhood will have you wincing in recognition." — People
"Klein shares her eccentric path to adulthood, from her tomboyish girlhood to sidesplitting dating tales and beyond in this uproarious, relatable, and irresistible memoir." — Harper's Bazaar
"Deftly blending irreverent humor with poignant insights, Klein's writing is wonderfully intimate." — New York magazine
"Never afraid to share insights and reveal the raw truth behind her own stories, Klein makes readers laugh while inspiring them, a feat that calls to mind the work of the late Nora Ephron. This uplifting and uproarious collection of personal essays will be repeatedly shared among friends." — Publishers Weekly (starred review)
"Reading [Jessi Klein's] book is like watching her--doubtless superb--stand-up act." — Booklist (starred review)
"A gifted comedian turns the anxieties, obsessions, insecurities, and impossible-to-meet expectations that make up human nature into laughter." — Kirkus Reviews (starred review)