The Matter of Black Lives: Writing from the New Yorker (Paperback)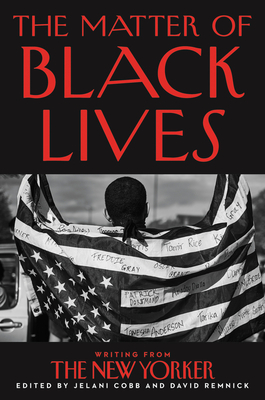 $24.99

Usually Ships in 1-5 Days
Description
---
A collection of The New Yorker's groundbreaking writing on race in America—including work by James Baldwin, Toni Morrison, Ta-Nehisi Coates, Hilton Als, Zadie Smith, and more—with a foreword by Jelani Cobb
This anthology from the pages of the New Yorker provides a bold and complex portrait of Black life in America, told through stories of private triumphs and national tragedies, political vision and artistic inspiration. It reaches back across a century, with Rebecca West's classic account of a 1947 lynching trial and James Baldwin's "Letter from a Region in My Mind" (which later formed the basis of The Fire Next Time), and yet it also explores our current moment, from the classroom to the prison cell and the upheavals of what Jelani Cobb calls "the American Spring." Bringing together reporting, profiles, memoir, and criticism from writers such as Chimamanda Ngozi Adichie, Elizabeth Alexander, Hilton Als, Vinson Cunningham, Henry Louis Gates, Jr., Malcolm Gladwell, Jamaica Kincaid, Kelefa Sanneh, Doreen St. Félix, and others, the collection offers startling insights about this country's relationship with race. The Matter of Black Lives reveals the weight of a singular history, and challenges us to envision the future anew. 
About the Author
---
Jelani Cobb is a historian and dean of Columbia Journalism School. A staff writer at The New Yorker since 2015, he is a recipient of the Sidney Hillman Award for Opinion and Analysis, as well as fellowships from the Ford Foundation and the Fulbright Foundation. He lives in New York City. 
David Remnick has been the editor of The New Yorker since 1998 and a staff writer since 1992. His books include the Pulitzer Prize-winning Lenin's Tomb: The Last Days of the Soviet Empire, King of the World: Muhammad Ali and the Rise of an American Hero, The Bridge: The Life and Rise of Barack Obama, and two collections of his magazine pieces.
Praise For…
---
"A standout among recent books about race, notable for its historical perspective and breadth as well as for the excellent writing of its many renowned contributors. . . . The Matter of Black Lives is a treasure chest of essays guaranteed to provoke, dismay, delight and inspire."  — Bookpage, starred review
"More than an antiracist reading list, this collection of mindfully curated historic and contemporary New Yorker texts surveys a wide range of voices and narratives. . . . Cobb and Remnick have assembled a dialogue across generations of New Yorker contributors that encourages readers to engage with the nation's history of racism and potential for change." — Library Journal (starred review)
"Exemplary gathering of writings on Black history, arts, politics, and culture in America. . . . An essential volume for readers interested in the Black past and present."  — Kirkus Reviews (starred review)
"Beyond the stellar prose, what unites these pieces, which range widely in length, tone, and point of view, is James Baldwin's insight, paraphrased by Jelani Cobb, that 'the American future is precisely as bright or as dark as our capacity to grapple with [the legacy of racism].' This standout anthology illuminates a matter of perennial concern." — Publishers Weekly
Praise for The Fragile Earth — ///
"A must-read." — Daily Beast
  "Immersive and engaging . . . Reading three decades of essays on this important and urgent topic, one is appalled that we know so much and have repeatedly done so little with that knowledge, as well as simultaneously hopeful and skeptical that technological solutions can save us now." — Library Journal
"Illuminating and powerful . . . a memorable book with a resounding message." — Publishers Weekly (starred review)