Beijing Rules: How China Weaponized Its Economy to Confront the World (Hardcover)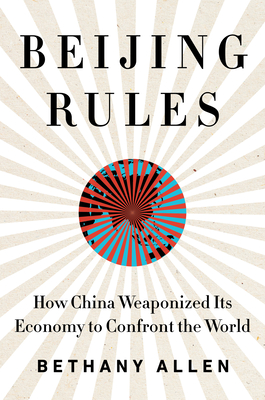 $32.99

Usually Ships in 1-5 Days
Description
---
Longlisted for Financial Times and Schroders Business Book of the Year
An acclaimed journalist on contemporary China lays bare the country's two-decade quest for global dominance and how the Chinese Communist Party coopted what Western leaders have long considered their most powerful tool in the fight for liberal democracy—capitalism—to expand its illiberal influence worldwide.
Bethany Allen, the award-winning China reporter for Axios, shows that by tying profits to political acquiescence the Chinese Communist Party is forcing companies and governments around the world to accept its rules. The coronavirus pandemic marked the first time that the Party deployed its tool kit of economic coercion on an issue directly related to the health and well-being of quite literally every person in the world. But Western democracies aren't helpless victims in Beijing's game. The West created the conditions for the rise of authoritarian capitalism by divorcing political values from market structures.
Written by one of the first American journalists to expose China's covert influence operations in the United States, Beijing Rules includes headline-making stories of Western institutions bowing to Beijing's pressure—a glimpse of what America's future may look like should liberal democracy come firmly under the thumb of authoritarian capitalism. Grounded in deep investigative reporting, it sounds the alarm about what we must do to prevent the loss of freedoms we now take for granted.
About the Author
---
Bethany Allen is the China reporter at Axios. She previously worked as the lead reporter for the International Consortium of Investigative Journalists' China Cables project, as a national security correspondent for the Daily Beast, and as a reporter and editor at Foreign Policy magazine. In 2020 she received the Robert D. G. Lewis Watchdog Award and was a finalist for the Batten Medal for Courage in Journalism. A fluent Mandarin speaker, she previously lived China for four years. She now lives in Taipei.
Praise For…
---
"If you want to understand how China has grown its influence around the world and why that matters, try Beijing Rules. Allen-Ebrahimian's smart and deeply reported work poses important questions—and answers many of them too. A must-read!" — Ravi Agrawal, editor-in-chief of Foreign Policy magazine
"Bethany Allen is one of the world's most trusted experts on one of the world's most consequential stories — China's conversion of economic power to hard power. A saga you must understand, from a journalist who takes you there." — Mike Allen, Politico co-founder and Axios co-founder
"Bethany Allen's page-turner shows how the CCP has taken its unrivalled success in imposing its power on the Chinese people at home and turned that towards the rest of the world. Allen details meticulously how the Party is stepping up its influence globally - over individuals, societies, governments and international institutions.  She charts the intent and behaviour of an authoritarian regime dedicated to using its military, economic and technological power to control society, coerce nations, rewrite history and set the narrative for all our futures. For anyone interested in understanding this century-defining phenomenon, Allen's book is a must read." — Justin Bassi, former National Security Advisor to former Australian Prime Minister Malcolm Turnbull, and executive director of the Australian Strategic Policy Institute.
"A new Washington Consensus? Not if Beijing has anything to say about it. Bethany Allen gives us a revealing, timely, and necessary study of how China uses economic coercion to achieve its geopolitical ends—and how the US and other democracies can fight back." — Ian Bremmer, President and Founder of Eurasia Group and GZERO Media, and New York Times bestselling author of The Power of Crisis
"Written with the clarity and authority that reflects Allen's exceptional career producing scoop after scoop on China's international activities, Beijing Rules is the one book on China you need to read this year. While the world was focused on the coronavirus pandemic, Allen traced how Beijing expanded its co-option of international firms and intimidation of the global Chinese diaspora through authoritarian capitalism. Allen also lays out how democratic governments and policymakers have been complicit and should take concrete measures to counter Beijing's moves without scapegoating people of Chinese descent." — Joanna Chiu, author of China Unbound and senior journalist, Toronto Star
"As China has grown more powerful, it has also become more willing to exert its economic strength for political purposes and coerce anything that stood in its way. Allen skillfully describes the transformation in Beijing's behavior and its profoundly destabilizing implications for individuals, businesses, institutions, and governments. No one tells this story better than Allen." — Charles Edel, Australia Chair at the Center for Strategic and International Studies (CSIS).
"A penetrating study of Beijing's strategy to become the dominant global power. . . . In an incisive analysis, Allen examines China's covert penetration of the American political system and international agencies such as the World Health Organization. . . . Allen has shown remarkable courage in writing this book, as the tentacles of the Beijing government are long, powerful, and patient. . . . A disturbing, insightful book about China's hidden, multitiered war—and how the West can fight back." — Kirkus Reviews (starred review)
"In [Beijing Rules] Bethany Allen shows in vivid detail (and fluent prose) just how China uses its growing economic heft to protect its 'core interests.'"  — Wall Street Journal
"Allen-Ebrahimian, the China reporter for Axios, smartly combines analysis of China's efforts to infiltrate western institutions via 'authoritarian economic statecraft' with a look at why the West is vulnerable to such influence campaigns. And although the book is from a nonfiction genre in which prose styling tends to take a back seat to argument, Beijing Rules contains some lovely writing, making it a pleasure to read." — Amanda Taub, New York Times
"Allen's elegantly written investigation blends economic history with vivid reporting. [Beijing Rules is] a startling and timely panorama of Chinese economic subversion." — Publishers Weekly
 "Startling . . . . Allen . . . manages the feat . . . of untangling legitimate concerns about the Chinese government's behaviour from the disturbing rise in racism towards people of East Asian heritage. . . . A timely read." — The Guardian
"Allen offers an informative and extensive account of how the CCP is using a growing body of confrontational tools to spread its influence." — Journal of Democracy
"In this thoroughly researched and beautifully written book, Allen, a Taipei-based American reporter, offers a chilling account of quiet but often successful Chinese efforts to leverage the country's economic power to impose its authoritarian mores on the world. . . . The author offers valuable analysis of how the weaknesses of Western policies and institutions enabled China to weaponize its economic power, in what she describes as 'economic coercion aimed at achieving illiberal geopolitical goals.'" — Global Asia