Thinking About History (Paperback)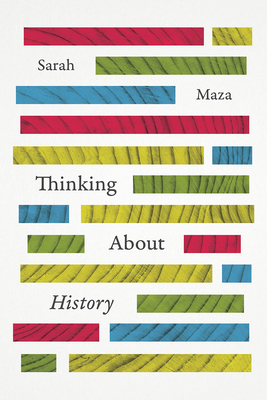 Description
---
What distinguishes history as a discipline from other fields of study? That's the animating question of Sarah Maza's Thinking About History, a general introduction to the field of history that revels in its eclecticism and highlights the inherent tensions and controversies that shape it.

Designed for the classroom, Thinking About History is organized around big questions: Whose history do we write, and how does that affect what stories get told and how they are told? How did we come to view the nation as the inevitable context for history, and what happens when we move outside those boundaries? What is the relation among popular, academic, and public history, and how should we evaluate sources? What is the difference between description and interpretation, and how do we balance them? Maza provides choice examples in place of definitive answers, and the result is a book that will spark classroom discussion and offer students a view of history as a vibrant, ever-changing field of inquiry that is thoroughly relevant to our daily lives.
About the Author
---
Sarah Maza is professor of history and the Jane Long Professor in the Arts and Sciences at Northwestern University.
Praise For…
---
"Essential."
— Choice

"As I continued reading, I became increasingly grateful that someone this thoughtful and skilled had chosen to research and write this book. . . . Through structure, content, and clear, vivid writing, Thinking about History makes a valuable contribution to the history of history. The first half of the book offers a narrative explaining the changing fields of historical research, the who, where, and what historians choose to write about. She identifies and illuminates works that were catalysts for change, going deep into the authors' evidence. Her careful structure and organization make difficult concepts and movements blindingly clear. . . . I got a lot of pleasure from reading Maza's book. It gave me a chance to reunite with old friends and encounter new histories, to see what authors took from and did with each other's work, to find out what methods and ideas have spoken not just to me but to the profession as a whole."
— The Journal of American History

"Maza has finally provided us with a strong synthetic and contemporary work that reflects the development of historical writing over the last few decades. Nothing out there combines the accessibility and range of Thinking About History; it is a literate, current, and inviting survey. Maza successfully captures the complexity of issues that have teased historians over the centuries. She raises the right questions, discusses the right scholarship, and engages with the right fields. Thinking About History is a model of concise and reflective historiographical coverage and the best synthesis of its kind."
— David Brown, Elizabethtown College

"Maza offers many intelligent reflections on how history is 'done' these days, after a period of fifty years or so during which historians have rethought their practice of the discipline. She also gives her readers an excellent crash course in the various different schools of, or approaches to, history that have emerged in that time. Thinking About History is the best concise overview of Western historiography over this period that I know of."
— Allan Megill, University of Virginia