When McKinsey Comes to Town: The Hidden Influence of the World's Most Powerful Consulting Firm (Hardcover)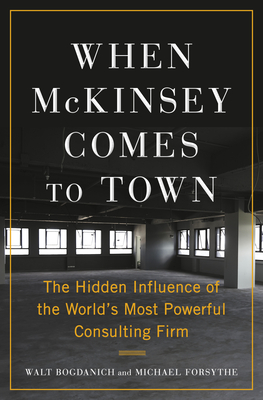 $32.50

Usually Ships in 1-5 Days
Description
---
NEW YORK TIMES BESTSELLER • An explosive, deeply reported exposé of McKinsey & Company, the international consulting firm that advises corporations and governments, that highlights the often drastic impact of its work on employees and citizens around the world

"Meticulously reported, and ultimately devastating, this is an important book." —Patrick Radden Keefe, New York Times bestselling author of Empire of Pain and Say Nothing

McKinsey & Company is the most prestigious consulting company in the world, earning billions of dollars in fees from major corporations and governments who turn to it to maximize their profits and enhance efficiency. McKinsey's vaunted statement of values asserts that its role is to make the world a better place, and its reputation for excellence and discretion attracts top talent from universities around the world. But what does it actually do?

In When McKinsey Comes to Town, two prizewinning investigative journalists have written a portrait of the company sharply at odds with its public image. Often McKinsey's advice boils down to major cost-cutting, including layoffs and maintenance reductions, to drive up short-term profits, thereby boosting a company's stock price and the wealth of its executives who hire it, at the expense of workers and safety measures. McKinsey collects millions of dollars advising government agencies that also regulate McKinsey's corporate clients. And the firm frequently advises competitors in the same industries, but denies that this presents any conflict of interest.

In one telling example, McKinsey advised a Chinese engineering company allied with the communist government which constructed artificial islands, now used as staging grounds for the Chinese Navy—while at the same time taking tens of millions of dollars from the Pentagon, whose chief aim is to counter Chinese aggression.

Shielded by NDAs, McKinsey has escaped public scrutiny despite its role in advising tobacco and vaping companies, purveyors of opioids, repressive governments, and oil companies. McKinsey helped insurance companies' boost their profits by making it incredibly difficult for accident victims to get payments; worked its U.S. government contacts to let Wall Street firms evade scrutiny; enabled corruption in developing countries such as South Africa; undermined health-care programs in states across the country. And much more.

Bogdanich and Forsythe have penetrated the veil of secrecy surrounding McKinsey by conducting hundreds of interviews, obtaining tens of thousands of revelatory documents, and following rule #1 of investigative reporting: Follow the money.
When McKinsey Comes to Town is a landmark work of investigative reporting that amounts to a devastating portrait of a firm whose work has often made the world more unequal, more corrupt, and more dangerous.
About the Author
---
WALT BOGDANICH is an investigative reporter for The New York Times. He has been awarded three Pulitzer Prizes for his investigative journalism. He previously produced stories for "60 Minutes," ABC News and The Wall Street Journal in New York and Washington. He has a B.A. in political science from the University of Wisconsin and a master's degree in journalism from Ohio State University. He lives in Port Washington, NY.
 
MICHAEL FORSYTHE is an investigative reporter for The New York Times. At Bloomberg was part of a team that won the George Polk Award in 2013. Mr. Forsythe is a veteran of the U.S. Navy. He has a B.A. in international economics from Georgetown University and a Master's degree in East Asian Studies from Harvard University. He lives in New York City.
Praise For…
---
New York Times Bestseller • A New York Times Book Review 100 Notable Books of the Year • One ofThe Washington Post's 50 Notable Works of Nonfiction • Investigative Reporters & Editors 2022 award winner for Best Investigative Book

"Deeply reported…The portrait this book creates is one of a company chasing profits, spreading the gospel of downsizing and offshoring, its leaders virtually unmoored form any guiding principles or moral code…a clear and devastating picture of the management philosophy that helped drive the decline of a stable American middle class over the last 50 years." 
—The New York Times Book Review

"Walt Bogdanich and Michael Forsythe shatter the luminous image of McKinsey & Co…In a masterful work of investigative journalism building on their reporting for the New York Times, Bogdanich and Forsythe pierce through McKinsey's "culture of secrecy...Superb"
—The Washington Post

"A harrowing account of decades of dishonourable exploits at McKinsey." 
—The Economist

"The authors find McKinsey's fingerprints on most every major corporate scandal of recent generations, from big tobacco starting in the 1950s to big pharma in the years leading to the opioid scandals. More striking is their effort to implicate the firm in a long list of broader social and economic ills like income inequality, the hollowing out of the middle class, and the financial crisis of 2007-8….the evidence Bogdanich and Forsythe amass is impressive….That McKinsey's deep connection to many of these corporations and policies has not been well known is in part a function of the firm's obsessive focus on secrecy, enforced through a web of strict non-disclosure agreements. This makes the reporting that went into "When McKinsey Comes to Town" all the more remarkable."
—Business Insider

"When McKinsey Comes to Town is highly informed, a fascinating read. The authors, New York Times investigative reporters Walt Bogdanich and Michael Forsythe, have done their homework. They name names, connect dots and unearth documents. Sources speak in Technicolor….Speaking to Bogdanich and Forsythe, one former McKinsey consultant put the reach of the firm into some perspective. Forget secret cabals, 'illuminati, lizard people, or globalists' he said. Instead, 'there is … McKinsey.'"
—The Guardian


"Bogdanich and Forsythe peel back the layers of secrecy surrounding management consulting firm McKinsey & Co. in this revelatory and often shocking account. Drawing on interviews with 'nearly one hundred current and former McKinsey employees,' as well as client and billing records, the authors uncover a devastating pattern of harm caused by greed, conflicts of interest, and unethical behavior…. Scrupulously documented and fluidly written, this is a jaw-dropping feat of investigative journalism."
—Publishers Weekly (starred review)
 
"Two award-winning New York Times investigative reporters take down the world's leading consulting firm, counsel to mega-corporations, dictators, and union-busters everywhere….. A startling case study of how unchecked corporate power affects world affairs—and all of us."
—Kirkus Reviews

"The nearly century-old McKinsey & Company describes itself as the world's largest consulting firm. Sounds benign, doesn't it? Yet McKinsey's sway over some of the most influential industries and domestic and foreign government agencies is a manifestation of corruption and greed down to the molecular level. Cleverly employing a panoply of NDAs and other protective legal tools, McKinsey further cloaks itself behind a thick scrum of obfuscating corporate-speak peppered throughout its infamous PowerPoint slide decks. With clients in energy and entertainment, the FDA and the NBA, Saudi Arabia and South Africa, McKinsey touts its skill at increasing profitability and efficiency, chiefly through draconian, often dangerous, staff cutbacks and price- cutting. Such advice, however, comes with a hefty price tag, yet when a client becomes mired in scandal, often resulting from McKinsey's recommendations, the company's fingerprints are nowhere to be found. Recipients of multiple prestigious prizes for their far-reaching investigative journalism, Bogdanich and Forsythe pull back the curtain on the unseen depths of McKinsey's pernicious and insidious influence. Thanks to their unprecedented level of access to crucial records and key insider accounts, this monumental corporate exposé will do for management consulting what Patrick Radden Keefe's Empire of Pain (2021) did for the opioid epidemic and the Sacklers."
—Booklist


"Two of the finest investigative reporters in the business got behind the wall of secrecy erected by one the world's most influential companies.  WHEN MCKINSEY COMES TO TOWN is a revelatory – and disturbing – portrait of a powerful firm whose vaunted reputation is belied by its actions."
—Jane Mayer, New York Times bestselling author of THE DARK SIDE and DARK MONEY
  
"In government and the private sector, in the United States and around the world, the influence of McKinsey is difficult to overstate. Walt Bogdanich and Michael Forsythe penetrate the firm's vaunted culture of secrecy to expose the complicity of business consultants in abetting the conduct of unsavory clients -- from despots to opioid pushers -- and the malign ways in which McKinsey's "scientific management" ends up impacting all of our lives. Panoramic, meticulously reported, and ultimately devastating, this is an important book." 
—Patrick Radden Keefe, New York Times bestselling author of SAY NOTHING and EMPIRE OF PAIN
 
"Bogdanich and Forsythe show how McKinsey, rather than optimizing social welfare, optimizes corporate profits and greed. In doing so the Firm has become a super spreader of corporate misdeed and  contributed to America's growing inequality problem. Hypocrisy, avarice, ridiculous power points, aiding and abetting the world's polluters and drug companies. Every page made my blood boil as I read about McKinsey's flawed reasoning and the vast profits made from ethically dubious work for governments, polluting companies and big pharma."
—Joseph E. Stiglitz, Nobel Laureate in economics 2011 and University Professor, Columbia University 
 
"After the publication of When McKinsey Comes to Town, the secretive consulting firm is going to need its own management consultant to address the damage. The book is a devastating account of McKinsey's influence at the top levels of government and industry. In arresting detail Bogdanich and Forsythe show how McKinsey has enabled—and profited from—one bad actor after another, from American opioid and cigarette makers to Russian oligarchs and state monopolies to Saudi Arabia's accused murderer-prince, Mohammed bin Salman, even while boasting that it's making the world a better place. The book is a tour de force of investigative reporting."
—James B. Stewart, New York Times bestselling author of Den of Thieves and Bloomberg Professor of Business Journalism at Columbia University