Comedy Comedy Comedy Drama: A Memoir (Paperback)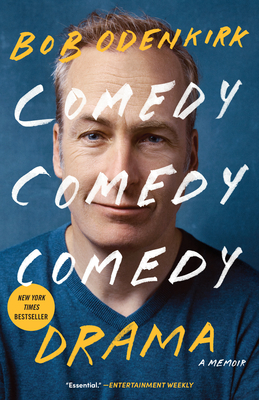 Description
---
NEW YORK TIMES BESTSELLER • In this "essential" (Entertainment Weekly), "hilarious" (AV Club) memoir, the star of Mr. Show, Breaking Bad, and Better Call Saul opens up about the highs and lows of showbiz, his cult status as a comedy writer, and what it's like to reinvent himself as an action film ass-kicker at fifty.

"I can't think of another entertainer who has improbably morphed so many times, and all through real genius and determination."—Conan O'Brien

ONE OF THE BEST BOOKS OF THE YEAR: The New Yorker, Vulture, Newsweek

Bob Odenkirk's career is inexplicable. And yet he will try like hell to explicate it for you. Charting a "Homeric" decades-long "odyssey" from his origins in the seedy comedy clubs of Chicago to a dramatic career full of award nominations—with a side-trip into the action-man world that is baffling to all who know him—it's almost like there are many Bob Odenkirks! But there is just one and one is plenty.

Bob embraced a life in comedy after a chance meeting with Second City's legendary Del Close. He somehow made his way to a job as a writer at Saturday Night Live. While surviving that legendary gauntlet by the skin of his gnashing teeth, he stashed away the secrets of comedy writing—eventually employing them in the immortal "Motivational Speaker" sketch for Chris Farley, honing them on The Ben Stiller Show, and perfecting them on Mr. Show with Bob and David.

In Hollywood, Bob demonstrated a bullheadedness that would shame Sisyphus himself, and when all hope was lost for the umpteenth time, the phone rang with an offer to appear on Breaking Bad—a show about how boring it is to be a high school chemistry teacher. His embrace of this strange new world of dramatic acting led him to working with Steven Spielberg, Alexander Payne, and Greta Gerwig, and then, in a twist that will confound you, he re-re-invented himself as a bona fide action star. Why? Read this and do your own psychoanalysis—it's fun!

Featuring humorous tangents, never-before-seen photos, wild characters, and Bob's trademark unflinching drive, Comedy Comedy Comedy Drama is a classic showbiz tale told by a determined idiot.
About the Author
---
Bob Odenkirk is an actor, comedian, writer, director, and producer. Odenkirk got his start in improv comedy in the motley Chicago comedy scene of the mid-eighties and went on to write for Saturday Night Live. He has starred in AMC's Breaking Bad and Better Call Saul and written and starred in the sketch comedy cult hit Mr. Show. He has written and produced a number of television shows and directed three films.
Praise For…
---
"I've known Bob [Odenkirk] for over 30 years, and yet I had to read this book to believe his stunning career arc. I can't think of another entertainer who has improbably morphed so many times, and all through real genius and determination."—Conan O'Brien

"Written before his heart attack, the actor's memoir was already appointment reading—he regales his audience with stories of his time coming up in Chicago's comedy scene and breaking into Hollywood—but now it feels even more essential."—Entertainment Weekly

"This book would have been welcome news no matter what, but it's especially sweet following Odenkirk's recovery from a scary July heart attack that saw the star collapse on the set. We'll take all the Odenkirk we can get."—USA Today

"One of the greatest comedy minds and comedic actors of his generation . . . Comedy Comedy Comedy Drama offers rare insight into the mind of a next-level genius."—Vulture

"Bob Odenkirk's elegantly titled Comedy Comedy Comedy Drama takes readers on a hilarious tour of the comedian and actor's career. . . . Celebrity memoirs are a dime a dozen, but if there were one we'd put our money on as being well worth the time this year, it's this one."—AV Club

"For laugh-worthy stories from nowhere comedy clubs to red carpets, pick up Comedy Comedy Comedy Drama from Emmy-winning Breaking Bad and Better Call Saul actor Bob Odenkirk."—Parade
 
"Bob Odenkirk (sp?) is an exceptionally and uniquely talented man who has had a huge influence on comedy for more than three decades. And now he's given us his P.O.V. on that journey. This book is filled not only with lessons on 'making it' in 'showbiz' but also regular old life lessons as well (including his killer recipe for 'Granny's Sunday Loaf'). It's funny, informative, and like the author himself, disarmingly honest. I look forward to meeting him one day."—David Cross

"Fascinating . . . illuminating . . . [a] fun, thoughtful book."—Kirkus Reviews (starred review)

"All readers who enjoy truth telling and satire will find Odenkirk's memoir engaging, as will all his fans who want to know why and how this famous comedian transformed himself into a serious actor."—Booklist

"Oftentimes hilarious . . . gleeful and irreverent . . . Comedy fans will find plenty of laughs and some heartening lessons, too."—Publishers Weekly (starred review)

"Odenkirk recounts fascinating and humorous behind-the-scenes stories from the many sets he's worked on, plus insights about big names in entertainment. . . . [His] account of triumph, struggle, and his firm belief that comedy is a unifying source of connection will inspire his fans and motivate aspiring entertainers."—Library Journal