Great Dialogues of Plato (Mass Market)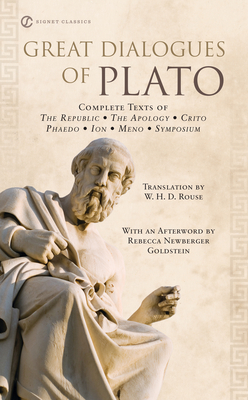 $6.95

Usually Ships in 1-5 Days
Description
---
"Plato is philosophy, and philosophy, Plato."—Emerson
 
The Republic and other great dialogues by the immortal Greek philosopher Plato are masterpieces that form part of the most important single body of writing in the history of philosophy. Beauty, love, immortality, knowledge, and justice are discussed in these dialogues, which magnificently express the glowing spirit of Platonic philosophy.
 
Translated by W. H. D. Rouse, one of the world's most outstanding classical scholars and translator of Homer's The Odyssey and The Iliad, this volume features the complete texts of seven of Plato's most revered works.
 
"In Rouse's pages Socrates' strength of mind, his dedication to philosophical truth, are borne in on the modern reader with something of the power that impressed and disturbed the ancient Greeks."—Time
About the Author
---
Plato (c. 427–347 b.c.) founded the Academy in Athens, the prototype of all Western universities, and wrote more than twenty philosophical dialogues.

W.H.D. Rouse (1863-1950) was one of the great modern experts on Ancient Greece, and headmaster of the Perse School, Cambridge, England, for 26 years. Under his leadership the school became widely known for the successful teaching of Greek and Latin as spoken languages. He derived his knowledge of the Greeks not only from his wide studies of classical literature, but also by travelling extensively in Greece.

Matthew S. Santirocco is Professor of Classics and Dean of the College of Arts and Science at New York University. He has written on Greek and Roman literature and edits the journal Classical World.Rebecca Goldstein Newberger is the author of such novels as The Mind-Body Problem, The Late-Summer Passion of a Woman of Mind, and 36 Arguments for the Existence of God, as well as acclaimed nonfiction including Betraying Spinoza: The Renegade Jew Who Gave Us Modernity and Plato at the Googleplex: Why Philosophy Won't Go Away.  Among her many honors and awards are a Guggenheim Fellowship, a MacArthur Fellowship, and grants from the National Science Foundation and the American Council of Learned Societies. She was named Humanist of the Year by the American Humanist Association and elected to the American Academy of Arts and Sciences. She is currently Visiting Professor of Philosophy, New College of the Humanities, London.