This Is Your Brain on Music: The Science of a Human Obsession (Paperback)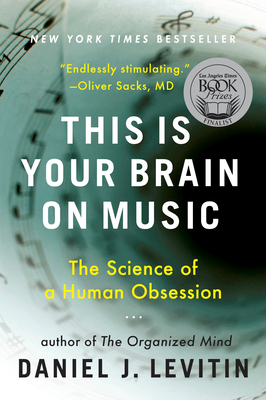 $18.00

Usually Ships in 1-5 Days
Description
---
In this groundbreaking union of art and science, rocker-turned-neuroscientist Daniel J. Levitin explores the connection between music—its performance, its composition, how we listen to it, why we enjoy it—and the human brain.

Taking on prominent thinkers who argue that music is nothing more than an evolutionary accident, Levitin poses that music is fundamental to our species, perhaps even more so than language. Drawing on the latest research and on musical examples ranging from Mozart to Duke Ellington to Van Halen, he reveals:

• How composers produce some of the most pleasurable effects of listening to music by exploiting the way our brains make sense of the world
• Why we are so emotionally attached to the music we listened to as teenagers, whether it was Fleetwood Mac, U2, or Dr. Dre
• That practice, rather than talent, is the driving force behind musical expertise
• How those insidious little jingles (called earworms) get stuck in our head

A Los Angeles Times Book Award finalist, This Is Your Brain on Music will attract readers of Oliver Sacks and David Byrne, as it is an unprecedented, eye-opening investigation into an obsession at the heart of human nature.
About the Author
---
Daniel J. Levitin, PhD, is a neuroscientist, cognitive psychologist, and bestselling author. He is Founding Dean of Arts & Humanities at the Minerva Schools at KGI in San Francisco, and Professor Emeritus of psychology and neuroscience at McGill University. He is the author of This Is Your Brain on Music, The World in Six Songs, The Organized Mind, A Field Guide to Lies, and Successful Aging. He divides his time between Los Angeles and the San Francisco Bay Area.
Praise For…
---
"Endlessly stimulating, a marvelous overview, and one which only a deeply musical neuroscientist could give....An important book."—Oliver Sacks, M.D.
"I loved reading that listening to music coordinates more disparate parts of the brain than almost anything else - and playing music uses even more! Despite illuminating a lot of what goes on, this book doesn't 'spoil' enjoyment—it only deepens the beautiful mystery that is music."—David Byrne, founder of Talking Heads and author of 
How Music Works
"Levitin is a deft and patient explainer of the basics for the non-scientist as well as the non-musician....By tracing music's deep ties to memory, Levitin helps quantify some of music's magic without breaking its spell."—
Los Angeles Times Book Review
"Why human beings make and enjoy music is, in Levitin's telling, a delicious story."—Salon.com

"Dr. Levitin is an unusually deft interpreter full of striking scientific trivia."—The New York Times

"Every musician, at whatever level of skill, should read this book."—Howie Klein, former president, Sire and Reprise/Warner Brothers Records

"Levitin's lucid explanation of why music is important to us is essential reading for creative musicians and scholars. I've been waiting for years for a book like this."—Jon Appleton, composer and professor of Music, Dartmouth College and Stanford University, inventor of the Synclavier synthesizer