Silent Spring (Paperback)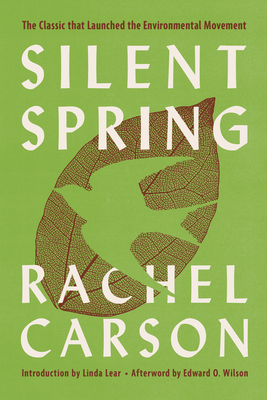 $18.99

Usually Ships in 1-5 Days
Description
---
First published by Houghton Mifflin in 1962, Silent Spring alerted a large audience to the environmental and human dangers of indiscriminate use of pesticides, spurring revolutionary changes in the laws affecting our air, land, and water. "Silent Spring became a runaway bestseller, with international reverberations . . . [It is] well crafted, fearless and succinct . . . Even if she had not inspired a generation of activists, Carson would prevail as one of the greatest nature writers in American letters" (Peter Matthiessen, for Time's 100 Most Influential People of the Century).
This fortieth anniversary edition celebrates Rachel Carson's watershed book with a new introduction by the author and activist Terry Tempest Williams and a new afterword by the acclaimed Rachel Carson biographer Linda Lear, who tells the story of Carson's courageous defense of her truths in the face of ruthless assault from the chemical industry in the year following the publication of Silent Spring and before her untimely death in 1964.
About the Author
---
Rachel Carson (1907–1964) spent most of her professional life as a marine biologist with the U.S. Fish and Wildlife Service. By the late 1950s, she had written three lyrical, popular books about the sea, including the best-selling The Sea Around Us, and had become the most respected science writer in America. She completed Silent Spring against formidable personal odds, and with it shaped a powerful social movement that has altered the course of history.
Coverage from NPR