Crackpot: The Obsessions of (Paperback)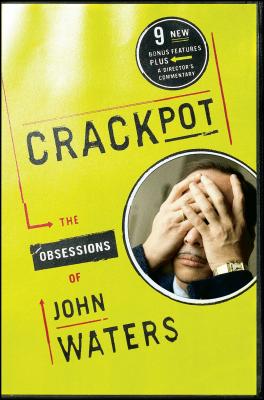 $17.99

Usually Ships in 1-5 Days
Description
---
An outrageous collection from the uniquely legendary John Waters, updated with new material—including Waters's 2002 New York Times article, "Finally, Footlights on the Fat Girls."

Crackpot, originally released in 1986, is John Waters's brilliantly entertaining litany of odd and fascinating people, places, and things. From Baltimore to Los Angeles, from William Castle to Pia Zadora, from the National Enquirer to Ronald Reagan's colon, Waters explores the depths of our culture. And he dispenses useful advice along the way: how not to make a movie, how to become famous (read: infamous), and of course, how to most effectively shock and make our nation's public laugh at the same time. Loaded with bonus features, this special edition is guaranteed to leave you totally mental.
About the Author
---
John Waters is a writer, a film director, an actor, and a visual artist best known for his films, including Hairspray, Pink Flamingos, and Serial Mom. He is the author of the national bestsellers Role Models, Carsick, Mr. Know-It-All, and Liarmouth. His spoken-word shows This Filthy World, False Negative, and A John Waters Christmas continue to be performed around the world. He lives in Baltimore, Maryland.
Praise For…
---
"John Waters is the Pope of Trash and his taste in tacky is unexcelled. Ladies and gentlemen, a very funny man." —William S. Burroughs

"Demented but endearing, hilarious but never mean-spirited. In Crackpot Waters proves that he is one of the few American writers who can successfully legitimize junk culture. Even though the book is about what is usually referred to as 'bad taste,' John Waters' own is anything but." —Bret Easton Ellis

"Crackpot is vivid, amusing, and has an air of quiet dignity." —Fran Lebowitz

"A treasure chest of arcane knowledge, all of it delightful, and all it deliciously described." —Jonathan Yardley, Washington Post

"Spend some time over trouble Waters; he's a very funny commentator who is at the beginning of a very long run." —Playboy

"Waters is a uniquely observant humorist—and his opinions are amusing and thought-provoking... It all makes for a good night's read." —Chicago Tribune

"John Waters writes about low-brow subjects in terms that high-brows can appreciate... His breezy mock-indignant style makes this book an easy read in the best sense of the word." —Baltimore Sun

"A cross between Evelyn Waugh and Miss Manners." —L.A. Times

"John Waters, amoral filmmaker and moralist wit. Why do his collected essays make me chortle uncontrollably, thrilled to be alive? Wilde thing, you make my heart sing." —L.A. Weekly

"John Waters has done more than any living American to give bad taste a good name." —Interview