Stephen King: A Complete Exploration of His Work, Life, and Influences (Hardcover)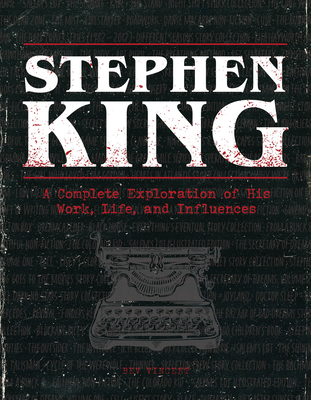 $30.00

Usually Ships in 1-5 Days
Description
---
Take an intimate tour through the life and works of Stephen King, made vivid with rare photos and ephemera from King's personal collection.Even if you are a die-hard fan, you will find something new
in this beautifully packaged Stephen King reference that you will return to again and again. Timed to celebrate Stephen King's 75th birthday on September 21, 2022,
Stephen King: A Complete Exploration of His Work, Life, and Influences
reveals
the inspiration behind the prolific author's brilliant works of horror
through a combination of photos and documents from King's archives and an engaging account of the stories behind how his novels, novellas, short stories, and adaptations came to be.
It might sound like a tall tale that Stephen King once met a bartender named Grady in an empty hotel in Colorado, or that the celebrated author helped his young daughter bury her cat in a nearby "pets sematary" after it was killed on a busy roadway. In this book, discover how King drew on these and more
real personal experiences and mundane life events
, then
employed his extraordinary imagination to twist them into something horrific
.  
From impoverished university student to struggling schoolteacher to one of the best-selling—and most recognizable—authors of all time, this engrossing book reveals
the evolution and influences of Stephen King's body of work over his nearly 50-year career
, and how the themes of his writing reflect the changing times and events within his life.  
An expansion of Stephen King expert Bev Vincent's
The Stephen King Illustrated Companion
, this fully revised, redesigned, and updated book includes:  
A review of King's complete body of work, including Fairy Tale, published in September 2022.
A wealth of rare memorabilia from King's own collection, including personal and professional correspondences, handwritten manuscript pages, book covers, movie stills, and a never-before-seen excerpts from one of his poems.
Interludes on specific topics such as real-life settings that inspired King's writing, the editor who discovered him, his life as a Boston Red Sox fan, and the many awards and honors he has received.
Insightful quotes from King from interviews over the decades.
Celebrate the beloved King of Horror
with this informational and entertaining look inside King's most iconic titles and the culture they have created.
About the Author
---
Bev Vincent is the author of Stephen King: A Complete Exploration of His Work, Life, and Influences; The Dark Tower Companion; The Road to the Dark Tower, the Bram Stoker Award–nominated companion to Stephen King's Dark Tower series; and The Stephen King Illustrated Companion, which was nominated for a 2010 Edgar® Award and a 2009 Bram Stoker Award. In 2018, he co-edited the anthology Flight or Fright with Stephen King.
His short fiction has appeared in places such as Ellery Queen's Mystery Magazine, Alfred Hitchcock's Mystery Magazine, Borderlands 5, Ice Cold, and The Blue Religion. He has been a contributing editor with Cemetery Dance magazine since 2001 and is a former member of the Storytellers Unplugged blogging community. He also writes book reviews for Onyx Reviews and has served as a judge for the Al Blanchard, Shirley Jackson and Edgar Awards.
Praise For…
---
"Holy smokes, what an awesome book…It's a must read for any fan."—Being Fictional

"...noted King chronicler Bev Vincent's spent years delving into the undoubtedly haunted halls of King's archives, unearthing letters, notes, outlines and photos that shed light on the novelist's inspirations and frustrations. The resulting encyclopedic account of the novelist's life and career, with pitstops in such terrifying towns as Castle Rock and Derry, is a (trick or) treat for all of us Constant Readers."—Marcus Errico, Yahoo!

"Frankly, it's a beautiful book, designed with character and creepiness that enhance the experience without becoming a gimmick or nuisance to reading."—Horror Obsessive

"Vincent consistently displays that same knack for expertly tucked-away nuggets amidst a more conventional narrative paved on book publications and career milestones. Vincent writes about King
in a direct and simple style that allows King, often quoted verbatim, to rise to the fore. The volume,
''published on the occasion of Stephen King's seventy-fifth birthday,'' transcends the simple marketing tool or hagiographic indulgence it might have been by combining studious knowledge with accessibility and insight."—Alvaro Zinos-Amaro, Locus Mag

"Less than a dozen pages in and I knew this was everything I had hoped for. Bev Vincent has found a way to celebrate King's complete body of work in a way that feels both academic and casual."—Derry Public Radio - Constant Readers

"What do you get for the Stephen King fan who already has every book he's ever written? This impressively illustrated volume is the answer."—Vanity Fair

"This is a great reference book that the casual reader of King's books will learn a lot from and in which, even we King nerds that read everything he has written still find new things."

 —Lilja's Library

"The almost conversational tone of the book is engaging and accessible, with extensive footnotes, credits, and appendices to extend readers' experience with the topic."—Library Journal

"Bev Vincent did an amazing job putting this book together. It has everything you need to know about Stephen King. If you are about to delve into Stephen King, I recommend you start with Stephen King: A Complete Exploration of His Work Life, and Influences by Bev Vincent."—Sandbox World

"...takes fans on an in-depth look at exactly what it is that makes the King of Horror tick. Vincent knows his material and delivers the sort of depth and detail that many 'behind the scenes' books promise, but rarely deliver."—FilmJuice

"When it comes to expounding on King's work, Vincent knows his stuff, through and through. Whether writing about King's radio station or time with the Rock-Bottom Remainders, Vincent is curious in his approach and thorough in his results."—Michael Berry, Portland Press Herald

"It's a blast to open the book at random and dive in, and Vincent ensures every King text receives its just due."—TheFilmStage.com