An Edible History of Humanity (Paperback)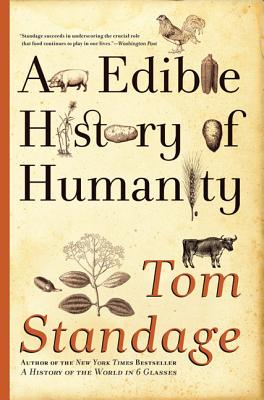 $18.99

Usually Ships in 1-5 Days
May 2009 Indie Next List
---
"Tom Standage's An Edible History of Humanity is filled with remarkable and intriguing facts about the history of food in human civilization. It will make you hungry just reading it!"
— Jerry Fieldsted, Windows on the World-Books & Art, Mariposa, CA
Description
---
The bestselling author of A History of the World in 6 Glasses charts the enlightening history of humanity through the foods we eat.

More than simply sustenance, food historically has been a kind of technology, changing the course of human progress by helping to build empires, promote industrialization, and decide the outcomes of wars. Tom Standage draws on archaeology, anthropology, and economics to reveal how food has helped shape and transform societies around the world, from the emergence of farming in China by 7500 b.c. to the use of sugar cane and corn to make ethanol today. An Edible History of Humanity is a fully satisfying account of human history.
About the Author
---
Tom Standage is business editor at The Economist magazine and the author of four works of history, including A History of the World in 6 Glasses and The Victorian Internet. He has also written for the Guardian, the New York Times, Wired, and other publications. He is married and has two children.
Praise For…
---
"Standage succeeds in underscoring the crucial role that food continues to play in our lives." - Washington Post

"The emphasis on food as a cultural catalyst differentiates Standage from Michael Pollan. With Standage...it's not just one food lifting and guiding history, but what Adam Smith might have called the "invisible fork" of food economics." - New Scientist

"Standage's examples are pretty powerful: In his view of the world, the British lost the Revolutionary War in large part because they failed to provide adequate food for their troops; the Soviet Union collapsed in 1991 because the regime could not feed its people; and the reason we say someone is a family's "breadwinner" is because of food's practically ancient association with wealth." - Gourmet

"An extraordinary and well-told story, a much neglected dimension of history." - Financial Times

"Cogent, informative and insightful. An intense briefing on the making of our world from the vantage point of food history." - Kirkus