The Iraqi Nights (Paperback)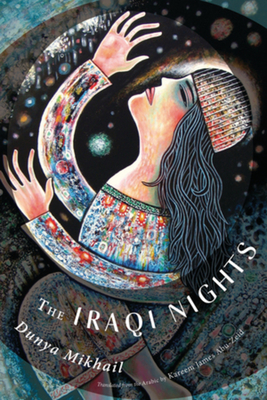 Description
---
A stunning new collection by one of Iraq's brightest poetic voices
The Iraqi Nights
is the third collection by the acclaimed Iraqi poet Dunya Mikhail. Taking
The One Thousand and One Nights
as her central theme, Mikhail personifies the role of Scheherazade the storyteller, saving herself through her tales. The nights are endless, seemingly as dark as war in this haunting collection, seemingly as endless as war. Yet the poet cannot stop dreaming of a future beyond the violence of a place where "every moment / something ordinary / will happen under the sun." Unlike Scheherazade, however, Mikhail is writing, not to escape death, but to summon the strength to endure. Inhabiting the emotive spaces between Iraq and the U.S., Mikhail infuses those harsh realms with a deep poetic intimacy. The author's vivid illustrations — inspired by Sumerian tablets — are threaded throughout this powerful book.
About the Author
---
Dunya Mikhail was born in Baghdad, Iraq, and moved to the United States thirty years later in 1995. After graduating from the University of Baghdad, she worked as a journalist and translator for the Baghdad Observer. Facing censorship and interrogation, she left Iraq, first to Jordan and then to America, settling in Detroit. New Directions published her books The Beekeeper: Rescuing the Stolen Women of Iraq, The Iraqi Nights, Diary of A Wave Outside the Sea, and The War Works Hard—chosen as one the New York Public Library's Books to Remember in 2005—as well as her edited volume, 15 Iraqi Poets. She has received a Guggenheim Fellowship, a Knights Foundation grant, a Kresge Fellowship, and the United Nations Human Rights Award for Freedom of Writing, and works as a special lecturer of Arabic at Oakland University in Michigan.

KAREEM JAMES ABU-ZEID is the award-winning translator of Rabee Jaber's Confessions and The Mehlis Report, and Dunya Mikhail's The Iraqi Nights.