Wild New World: The Epic Story of Animals and People in America (Hardcover)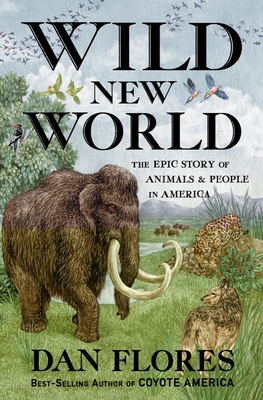 $30.00

Usually Ships in 1-5 Days
Description
---
Winner of the 2023 Rachel Carson Environment Book Award

Winner of the 2023 National Outdoor Book Award for Natural History Literature

Shortlisted for the 2023 Phi Beta Kappa Society Ralph Waldo Emerson Award



A Kirkus Reviews Best Nonfiction Book of 2022



A deep-time history of animals and humans in North America, by the best-selling and award-winning author of Coyote America.
In 1908, near Folsom, New Mexico, a cowboy discovered the remains of a herd of extinct giant bison. By examining flint points embedded in the bones, archeologists later determined that a band of humans had killed and butchered the animals 12,450 years ago. This discovery vastly expanded America's known human history but also revealed the long-standing danger Homo sapiens presented to the continent's evolutionary richness.
Distinguished author Dan Flores's ambitious history chronicles the epoch in which humans and animals have coexisted in the "wild new world" of North America—a place shaped both by its own grand evolutionary forces and by momentous arrivals from Asia, Africa, and Europe. With portraits of iconic creatures such as mammoths, horses, wolves, and bison, Flores describes the evolution and historical ecology of North America like never before.
The arrival of humans precipitated an extraordinary disruption of this teeming environment. Flores treats humans not as a species apart but as a new animal entering two continents that had never seen our likes before. He shows how our long past as carnivorous hunters helped us settle America, initially establishing a coast-to-coast culture that lasted longer than the present United States. But humanity's success had devastating consequences for other creatures. In telling this epic story, Flores traces the origins of today's "Sixth Extinction" to the spread of humans around the world; tracks the story of a hundred centuries of Native America; explains how Old World ideologies precipitated 400 years of market-driven slaughter that devastated so many ancient American species; and explores the decline and miraculous recovery of species in recent decades.
In thrilling narrative style, informed by genomic science, evolutionary biology, and environmental history, Flores celebrates the astonishing bestiary that arose on our continent and introduces the complex human cultures and individuals who hastened its eradication, studied America's animals, and moved heaven and earth to rescue them. Eons in scope and continental in scale, Wild New World is a sweeping yet intimate Big History of the animal-human story in America.
About the Author
---
Dan Flores is A. B. Hammond Professor Emeritus of Western History at the University of Montana. A distinguished historian of the American West, he is the author of the best-selling books Coyote America and American Serengeti. He lives in Santa Fe, New Mexico.
Praise For…
---
Flores is a skilled raconteur.…Wild New World succeeds in establishing a powerful, and credible, narrative of life and death in North America.

— Michelle Nijhuis - New York Review of Books

Flores is a judicious and even-handed writer, and Wild New World provides readers with a sweeping and nuanced look from . . . a wise writer, disarmingly keen-eyed. Wild New World is full of wonders. . . . Flores does a consistently marvelous job.

— Open Letters Review

To see this book nominated for the National Book Award or nominated for a Pulitzer would not surprise me. I don't know how you're going to top it.
— Steve Rinella - The MeatEater Podcast

Dan Flores has given us a searing and devastating accounting of what has been lost since humans first set foot in North America. This is environmental history at its best: gracefully written, filled with marvelous new details, and infused with a quiet fury that comes across as well-earned and long overdue. It belongs on the same shelf as Barry Lopez's Of Wolves and Men.

— Nate Blakeslee, author of American Wolf

This is a magnificent achievement—a sweeping saga stretching across thousands of years. With his sharp eye for compelling anecdotes, Flores weaves an unfolding story that keeps you turning the pages.
— Dayton Duncan, author of The National Parks: America's Best Idea

This is the best book I have read on Americans and the amazing wildlife of this amazing continent. Dan Flores is sweeping, bold, and eloquent, weaving together modern genetic science and traditional literature, people and nature, the history of biology and of laws and politics. He informs us about the world that was, the world we have destroyed, while immersing us in his own personal search for the world that is. An inspiring work
— Donald Worster, author of A Passion for Nature: The Life of John Muir

Wild New World surveys America's bestiary, teeming and rambunctious. Roaming its pages is like having an all-access pass to the backstory of a continent. Dan Flores is an erudite and indefatigable guide on this multidimensional journey through space, time, natural and human history, overflowing with arcane knowledge and surprising insight that is bolstered by the latest science, and, above all, an abiding love for this land and its creatures, past and present.

— John Vaillant, author of The Jaguar's Children and The Tiger

Never has there been so complete, so fascinating, and so accessible a telling of the long history of people with American wildlife. The tone of the book is journalistic and a trustworthy pleasure to read because of it.
— Obi Kaufmann, author of California Lands Trilogy

An amazing history… Flores at his best.
— Birdfreak

Never has there been so complete, so fascinating, and so accessible a telling of the long history of people with American wildlife. The tone of the book is journalistic and a trustworthy pleasure to read because of it.
— Obi Kaufmann, author of California Lands Trilogy

I've never encountered a work like Wild New World – nothing even close to the scope, depth, and analysis this fine writer and historian Dan Flores brings to this sad tale. This is a big book, a Big History, and it deserves big attention.

— John Miles - National Parks Traveler

Flores relates this huge body of information about the birth of America with both style and clarity.... Flores' "Wild New World" is an impressive accomplishment that imparts an amazing amount of fascinating facts about our land. It enlightens readers about where we came from and where we might be headed in the future.... A compelling and comprehensive read.
— Leslie Doran - The Durango Herald

The future of conservation, and our own survival, depends on busting some of the most stubborn myths that have embedded themselves in Western belief systems—ideologies that have, for centuries, steered us down a course of overexploitation of our planet's resources. In his latest book...Dan Flores fully takes on the challenge. In Flores' deft hands the facts, fortified by the latest findings in ecology, genetics, and archaeology, fly off the pages in vivid and fascinating detail.
— Isabella Tree - Bookpost

A passionate history of North American animal life and people.... Outstanding.
— Kirkus Reviews (starred review)