Declassified: 50 Top-Secret Documents That Changed History (Hardcover)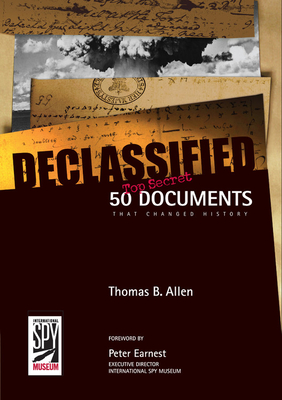 Description
---
Culled from archives around the world, the 50 documents in Declassified illuminate the secret and often inaccessible stories of agents, espionage, and behind-the-scenes events that played critical roles in American history. Moving through time from Elizabethan England to the Cold War and beyond, noted author Tom Allen places each document in its historical and cultural context, sharing the quirky and little-known truths behind state secrets and clandestine operations. Each of seven chapters centers on one particular theme: secrets of war, the art of the double cross, spy vs. spy, espionage accidents, and more. Through support and access provided by the International Spy Museum in Washington, D.C., this lively history contains never-before-published and hard-to-find documents—printed from scans of the originals wherever possible. These include The Zimmerman Telegram, which led America into World War I; letters from Robert Hanssen to his Soviet spymaster, marking the start of his devastating career as a mole; and papers as recent as the Presidential Daily Brief that announced that Bin Laden was determined to strike the U.S.—delivered in August 2001.

The public interest in state secrets and espionage has been piqued by our current international conflicts, and this engrossing book—well priced and engagingly written for the general reader—will definitely feed that fascination.
About the Author
---
Thomas B. Allen is the award-winning author of 30 books on subjects ranging from military history to sharks, and is a frequent contributor to National Geographic magazine. His title Spy Book, co-authored with Norman Polmar, is the principal source book for the International Spy Museum in Washington, D.C. Tom Allen lives in Bethesda, Maryland, where he is a founding member of the Writer's Center.