Into the Groove: The Story of Sound From Tin Foil to Vinyl (Hardcover)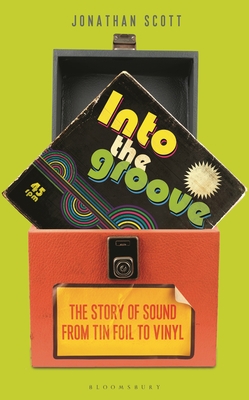 $28.00

Usually Ships in 1-5 Days
Description
---
The story of recorded sound--the technological developments, the humans that made them happen and their impact on society, from the phonograph to LPs, EPs and the recent resurgence of vinyl.

In Into the Groove, vinyl collector and music buff Jonathan Scott dissects a mind-blowing feat that we all take for granted today--the domestication of sound. Thomas Edison's phonograph, the first device that could both record and reproduce sound, represented an important turning point in the story of recorded sound, but it was only the tip of the iceberg, and came after decades of invention, tinkering and experimentation. Scott traces the birth of sound back to the earliest serious attempts in the 1850s, celebrating the ingenuity, rivalries and science of the modulated groove.

He examines the first attempts to record and reproduce sounds, the origins of the phonograph, and the development of commercial shellac discs. Then he divulges the fascinating story of the LP record, from the rise of electric recording to the fall of 7-inch vinyl, the competing speed and format wars, and an epilogue that takes the story up to the present-day return of vinyl to vogue.

Into the Groove uncovers tales of intrigue and betrayal, court battles and lesser-known names who are often left out of most histories. Discover a new appreciation of the not-so-simple black disc that holds a special place in the history of music and sound.
About the Author
---
Jonathan Scott is a music writer and self confessed astronomy geek.

Formerly a contributing editor to Record Collector magazine, he has edited books about Prince, Cher and the San Francisco psych explosion, and written about Nirvana, the Pogues, the Venga Boys, Sir Patrick Moore and Sir Isaac Newton, in a variety of magazines.

He received his first telescope aged eight, using it to track Halley's Comet in 1986. Having followed Voyager's planetary fly-bys throughout his childhood, he first got to write about the missions in 2004. If he'd been in charge of the Voyager Golden Record, aliens would assume humanity had three chords.
Praise For…
---
"By mixing lo-fi charm into hi-fi science Into the Groove captures all the wonder and absurdity of its subject, jumping and skipping with real analogue delight." —Sunday Times

"An attentive, expository account of how records came to be." —The Wire

"A thoroughly entertaining history of how sound recordings evolved ... The tone is light and the narrative engaging… Within these pages is a lot of humor… an excellent, absorbing book." —Washington Independent Review of Books

"An audio geek's delight, this engrossing history of music and voice recording is as wide-ranging and thorough as one could want … Scott spins a history told with near-perfect pitch." —Kirkus Reviews (starred review)

"A very detailed and well researched history of the gramophone… [Scott] writes in a non-technical way but fully explains how sound recording has evolved." —David Harris, Practical Wireless

"Enjoyable … Scott has an eye for detail … music lovers will want to take this one for a spin." —Publisher's Weekly

"Scott excels in explaining the connections between innovators and their various epiphanies and lawsuits without ever losing focus of recordings' end users: the listener … A perfect fit for music lovers who've always wondered how a recorded performance reaches their ears." —Library Review

"A thoroughly entertaining history of how sound recordings evolved... excellent, absorbing book." —Eugene L. Meyer, Washington Independent Review of Books

"This is the book music lovers will want this summer." —Bookworm Sez

"In Into the Groove, Scott spins a remarkably dulcet history of sound recording from its genesis to the present day." —Bill Thompson, The Post and Courier

"This is an interesting look at a specific part of music history." —Erica Ezeifedi, Book Riot

"Into the Groove is a thorough exploration of the sound revolution that brought music to the masses… Jonathan Scott contributes a wealth of valuable information that will engage audiophiles everywhere. A winning book of history mixed with pop culture." —Philip Zozzaro, Manhattan Book Review

"This is the book music lovers will want this summer, by the water or by the speakers." —Terri Schlichenmeyer, Marco Eagle News

"Scott's writing is engaging… And there is no dearth of nuggets that even the least engineering-minded individual will take from his narrative... Ultimately, for anyone who loves music, Into the Groove is an essential document." —Frank Valish, Under the Radar

"This book will fascinate both novices and knowledgeable readers…One comes away from this volume with an appreciation of how technological change/innovation occurs in an economy that is dominated by profit making and by the inquisitiveness of individuals." —R. J. Phillips, Choice Magazine