The Trouble with Goats and Sheep: A Novel (Hardcover)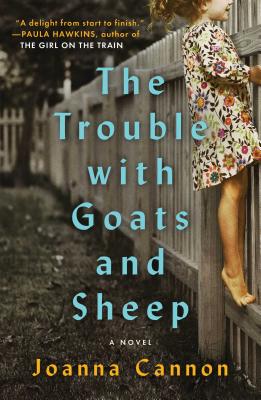 July 2016 Indie Next List
---
"Best friends Grace and Tilly spend England's sweltering summer of 1976 sleuthing for clues to uncover the reason for their neighbor's disappearance. They go from house to house, neighbor to neighbor, investigating as only guileless little girls can do. While they're at it, they also look for god in the most unusual places. As the mystery of the neighborhood is slowly revealed, so are the many secrets behind every door on the avenue. If you loved A Man Called Ove, you will love The Trouble With Goats and Sheep. Funny, quirky and profound!"
— Cathy Langer (M), Tattered Cover Book Store, Denver, CO
Description
---
"I loved this book. It's one of those books that you just want to give to everybody." —Nancy Pearl on NPR's Morning Edition

Part coming-of-age story, part mystery, The Trouble with Goats and Sheep is a quirky and utterly charming debut about a community in need of absolution and two girls learning what it means to belong.

England, 1976. Mrs. Creasy is missing and the Avenue is alive with whispers. The neighbors blame her sudden disappearance on the heat wave, but ten-year-olds Grace and Tilly aren't convinced. As the summer shimmers endlessly on, the girls decide to take matters into their own hands. Inspired by the local vicar, they go looking for God—they believe that if they find Him they might also find Mrs. Creasy and bring her home.

Spunky, spirited Grace and quiet, thoughtful Tilly go door to door in search of clues. The cul-de-sac starts to give up its secrets, and the amateur detectives uncover much more than ever imagined. As they try to make sense of what they've seen and heard, a complicated history of deception begins to emerge. Everyone on the Avenue has something to hide, a reason for not fitting in.

In the suffocating heat of the summer, the ability to guard these differences becomes impossible. Along with the parched lawns and the melting pavement, the lives of all the neighbors begin to unravel. What the girls don't realize is that the lies told to conceal what happened one fateful day about a decade ago are the same ones Mrs. Creasy was beginning to peel back just before she disappeared.
About the Author
---
Joanna Cannon is a psychiatrist with a degree from Leicester Medical School. She lives in England's Peak District with her family and her dog. She is the author of Three Things About Elsie and The Trouble with Goats and Sheep, a top ten bestseller in the UK.
Praise For…
---
"A unique and unforgettable debut... a closed-community mystery not just in an Agatha Christie sense but in the more ambitious J.B. Priestley manner: a spiritual parable whose larger questions echo even after being answered."
— Tom Nolan

"Cannon's intense specificity captures a world in amber, permitting intimate access to the pantries, gardens, and garages of Britain's past… a microcosm rife with tiny extraordinaries… Cannon is a mapmaker; her stories create an atlas... As in George Perec's Life: A User's Manual, the secrets of each household come to light."
— Samantha Hunt

"A captivating new voice in British fiction. Not since Nathan Filer's The Shock of the Fall has a debut novel held the promise of such an exciting career ahead. One of the standout novels of the year."
— Hannah Beckerman, author of The Dead Wife's Handbook

"An utter delight. Perceptive, funny, dark, moving. And so beautifully written. I loved it."
— Sarah Winman, author of When God Was a Rabbit

"Joanna Canon's interrogation of hypocrisy and prejudice is insightful and compassionate… I didn't want the book to end."
— Carys Bray, author of A Song for Issy Bradley

"A stunning debut with wonderfully drawn characters. Joanna Cannon is one to watch."
— Katie Fforde, author of A Vintage Wedding

"Part whodunnit, part coming of age, this is a gripping debut about the secrets behind every door."
— Rachel Joyce, author of The Unlikely Pilgrimage of Harold Fry

"This cautionary tale of a suburban power struggle is charming and truthful, at once ambitious and intimate, with playful prose that reveals an intriguing mind at work."
— James Hannah, author of The A to Z of You and Me

"A masterfully constructed plot... This understated, somewhat quirky debut novel is remarkable for its structure, characterizations, pitch-perfect prose, touches of humor, and humanity. Cannon is an author to watch."


— Michele Leber

"A thoughtful tale of loyalty and friendship, family dynamics and human nature."
— Kirkus

"In her astute, engaging debut, Cannon uses the New Testament parable of the title to illustrate, wryly and with pinpoint accuracy, the righteous indignation and small-mindedness of a group of gossipy English suburbanites… an insightful, offbeat mystery."
— Publishers Weekly

"Presents our complicated world with compassion and humor."
— Lauren Bufferd

"A woolly mystery."
— Vanity Fair

"Masterful... a must read. Cannon's prose is simply electric... literary fiction at its best."
— Manhattan Book Review

"We get to know the villagers intimately, the author writing with imagery that paints pictures with words... This mystery will keep you guessing until the end... it's well worth a read."
— Chris Stuckenschneider

"Reminiscent of Scout Finch with shades of Flavia de Luce, 10-year-olds Grace and Tilly spend the sweltering summer of 1976 investigating two mysteries... Quirky characters, playful language and humor offset the tension. The child detectives may have gotten themselves into more than they bargained for, but their adventure leads their street toward closer community and the novel to an upbeat conclusion."
— Cheryl Krocker McKeon