Brave, Not Perfect: How Celebrating Imperfection Helps You Live Your Best, Most Joyful Life (Paperback)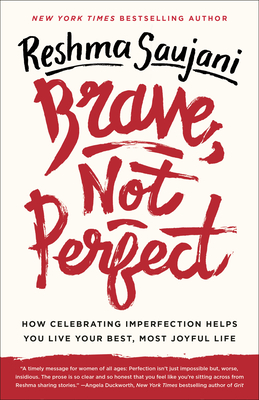 $17.00

Usually Ships in 1-5 Days
Description
---
INTERNATIONAL BESTSELLER • Inspired by her popular TED Talk, the founder and CEO of Girls Who Code urges women to embrace imperfection and live a bolder, more authentic life.
 
"A timely message for women of all ages: Perfection isn't just impossible but, worse, insidious."—Angela Duckworth, bestselling author of Grit
 
Imagine if you lived without the fear of not being good enough. If you didn't care how your life looked on Instagram. If you could let go of the guilt and stop beating yourself up for making human mistakes. Imagine if, in every decision you faced, you took the bolder path?
 
As women, too many of us feel crushed under the weight of our own expectations. We run ourselves ragged trying to please everyone, pass up opportunities that scare us, and avoid rejection at all costs.
 
There's a reason we act this way, Saujani says. As girls, we were taught to play it safe. Well-meaning parents and teachers praised us for being quiet and polite, urged us to be careful so we didn't get hurt, and steered us to activities at which we could shine. As a result, we grew up to be women who are afraid to fail. 
 
It's time to stop letting our fears drown out our dreams and narrow our world, along with our chance at happiness.
 
By choosing bravery over perfection, we can find the power to claim our voice, to leave behind what makes us unhappy, and to go for the things we genuinely, passionately want. Perfection may set us on a path that feels safe, but bravery leads us to the one we're authentically meant to follow. In Brave, Not Perfect,Saujani shares powerful insights and practices to help us let go of our need for perfection and make bravery a lifelong habit. By being brave, not perfect, we can all become the authors of our best and most joyful life.
About the Author
---
Reshma Saujani is the founder and CEO of Girls Who Code, a national nonprofit organization working to close the gender gap in technology. She has been named a Fortune 40 Under 40, a WSJ. Innovator, and one of the most powerful women changing the world by Forbes. She is the host of the award-winning podcast, Brave, Not Perfect and the author of the New York Times bestseller Girls Who Code: Learn to Code and Change the World. 
Praise For…
---
"I love this book! A timely message for girls and women of all ages: perfection isn't just impossible but, worse, insidious.  The prose is so clear, so honest — you feel like you're sitting across from Reshma sharing stories." -Angela Duckworth, Christopher H. Browne Distinguished Professor of Psychology, University of Pennsylvania and New York Times Bestselling author of Grit
  
"The perfect is not just the enemy of the good; the pressure to be perfect is the enemy of girls around the world. In this courageous, convincing book, Reshma Saujani shares a bold vision to free girls—and women—from the shackles of social expectations." -Adam Grant, New York Times bestselling author of ORIGINALS, GIVE AND TAKE, and OPTION B with Sheryl Sandberg
 
"For any woman who has ever thought to herself  "I just can't..." or "I'm just not...," this eye-opening book will help you showing up every day as brave, not perfect changes how the world sees you, but more importantly, how you see yourself - and what you are capable of. This book is great reminder that having the courage to stare your mistakes and your imperfections in the face is one of the most overlooked sources of power." – Amy Cuddy, Harvard lecturer and Bestselling author of Presence