An Illustrated Book of Bad Arguments: Learn the Lost Art of Making Sense (Hardcover)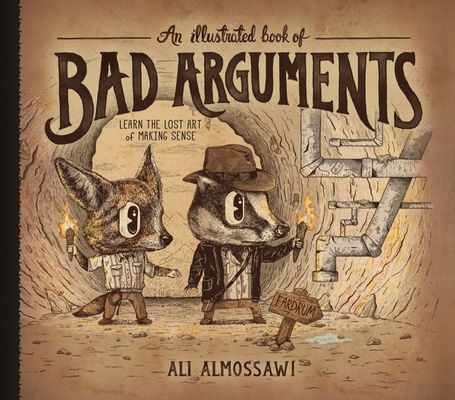 $15.95

Usually Ships in 1-5 Days
Description
---
"This short book makes you smarter than 99% of the population. . . . The concepts within it will increase your company's 'organizational intelligence.'. . . It's more than just a must-read, it's a 'have-to-read-or-you're-fired' book"—Geoffrey James, INC.com       
From the author of An Illustrated Book of Loaded Language, here's the antidote to fuzzy thinking, with furry animals!
Have you read (or stumbled into) one too many irrational online debates? Ali Almossawi certainly had, so he wrote An Illustrated Book of Bad Arguments! This handy guide is here to bring the internet age a much-needed dose of old-school logic (really old-school, a la Aristotle).
Here are cogent explanations of the straw man fallacy, the slippery slope argument, the ad hominem attack, and other common attempts at reasoning that actually fall short—plus a beautifully drawn menagerie of animals who (adorably) commit every logical faux pas. Rabbit thinks a strange light in the sky must be a UFO because no one can prove otherwise (the appeal to ignorance). And Lion doesn't believe that gas emissions harm the planet because, if that were true, he wouldn't like the result (the argument from consequences).
Once you learn to recognize these abuses of reason, they start to crop up everywhere from congressional debate to YouTube comments—which makes this geek-chic book a must for anyone in the habit of holding opinions.
About the Author
---
Ali Almossawi is an alumnus of MIT's engineering systems division and Carnegie Mellon's school of computer science. His books include An Illustrated Book of Bad Arguments, An Illustrated Book of Loaded Language, and Bad Choices. His writing has appeared in publications such as Wired. He works and lives in San Francisco.
Alejandro Giraldo holds a degree in graphic design from UPB Medellín and a master's in art direction from ELISAVA (the Barcelona School of Design and Engineering). He runs the clothing company Velmost and works as a freelance illustrator. He lives in Medellín, Colombia.
Praise For…
---
An Indie Bestseller

"Wonderfully digestible . . . I can't think of a better way to be taught or reintroduced to these fundamental notions of logical discourse. A delightful little book."—Aaron Koblin, creative director, Google's Data Arts team

"I love this illustrated book of bad arguments. A flawless compendium of flaws."—Alice Roberts, PhD, anatomist, writer, and presenter of The Incredible Human Journey

"A whimsical, straightforward primer . . . a guide to how to strengthen—and how not to weaken—your arguments."—Shelf Awareness, starred review

"A very good book every scientist should have. Every scholar, really."—Hope Jahren, author of Lab Girl

"This little book takes a potentially ponderous subject (logical fallacies) and makes it wonderfully entertaining."—Omaha World-Herald

"Bad arguments, great illustrations . . . gorgeous."—Cory Doctorow, BoingBoing.net

"[A] handsome newcomer's guide to the world of logic . . . Almossawi and his McSweeney's-ready artist Giraldo accessibly tackle such classic subjects as circular reasoning, false dilemma, straw man, appeal to ignorance, and genetic fallacy . . . an attractive, substantive read."—John Wenzel, Denver Post blog

"Seriously, An Illustrated Book of Bad Arguments should be on every school curriculum. Twitter will be a more civil place."—Kevin Tang, BuzzFeed.com

"A great primer for anyone looking to understand logical fallacies . . . Pass it along to the arguers—good and bad—in your life."—Lauren Davis, io9.com

"Now more than ever, you need this illustrated guide to bad arguments, faulty logic, and silly rhetoric."—Dan Solomon, Fast Company magazine online

"Share [this book] with your friends. Encourage your family members to flip through it. Casually leave copies in public places."—Jenny Bristol, GeekDad.com

"[A] wonderful primer on the logical fallacies that have been screwing up our thinking . . . since shortly after the invention of dirt."—Ron Kretsch, DangerousMinds.net