The Language Lover's Puzzle Book: A World Tour of Languages and Alphabets in 100 Amazing Puzzles (Alex Bellos Puzzle Books) (Paperback)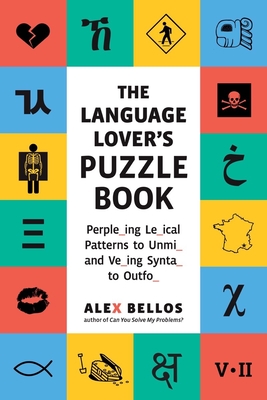 $16.95

Usually Ships in 1-5 Days
Description
---
100 wonder-filled word puzzles that thrill and tantalize with the beauty, magic, and weirdness of world language

Whether you're a crossword solver, cryptogram fan, Scrabble addict, or Sudoku savant, The Language Lover's Puzzle Book is guaranteed to tease your brain and twist your tongue. Puzzle master Alex Bellos begins in Japan, where we can observe some curious counting:

boru niko = two balls
tsuna nihon = two ropes
uma nito = two horses
kami nimai = two sheets of paper

ashi gohon = five legs
ringo goko = five apples
sara gomai = five plates
kaba goto = five hippos

Now, how do the Japanese say "nine cucumbers"?*
a) kyuri kyuhon
b) kyuri kyuko
c) kyuri kyuhiki
d) kyuri kyuto

Bellos finds the intrigue—and the human element—in a dizzying array of ancient, modern, and even invented tongues, from hieroglyphs to Blissymbolics, Danish to Dothraki. Filled with unusual alphabets, fascinating characters, and intriguing local customs for time-telling, naming children, and more, this is a bravura book of brainteasers and beyond—it's a globe-trotting, time-traveling celebration of language.

*The word endings depend on shape: Flat things end in -mai and spherical things end in -ko. Cucumbers are long things (like ropes and legs), so they end in -hon. The answer is (a)!
About the Author
---
Alex Bellos holds a degree in mathematics and philosophy from Oxford University. His bestselling books, Here's Looking at Euclid and The Grapes of Math, have been translated into more than 20 languages and were both shortlisted for the Royal Society Science Book prize. His puzzle books include Can You Solve My Problems?, Puzzle Ninja, Perilous Problems for Puzzle Lovers, and The Language Lover's Puzzle Book. He is also the coauthor of the mathematical coloring books Patterns of the Universe and Visions of the Universe. He has launched an elliptical pool table, LOOP. He writes a puzzle blog for The Guardian, and he won the Association of British Science Writers award for best science blog in 2016. He lives in London.
Praise For…
---
International Bestseller

"Alex Bellos is a dazzling polymath whose cleverness and ingenuity are on full display in this utterly brilliant and original collection of linguistic puzzles. This book is destined to be a classic for puzzle lovers."—Joshua Foer, cofounder of Atlas Obscura and author of Moonwalking with Einstein

"Bellos' books are packed with games and riddles in different languages—both real and invented—which you don't necessarily have to speak in order to solve. There are so many word puzzles out there, and there's surely one for you."—Popular Science

"The Language Lover's Puzzle Book is exactly the sort of book I wish had been available to me as a budding linguist. I recommend it for all the language and puzzle fans in your life!"—Gretchen McCulloch, New York Times–bestselling author of Because Internet: Understanding the New Rules of Language

"Not just a puzzle collection, but an introduction to the science of distilling regularities from the weird ways in which languages behave . . . Many beginners, after the buzz of Mr. Bellos's puzzles, may also fall in love with the joys of [linguistics]."—The Economist

"I am a sucker for Alex Bellos's books—they're just such fun, full of unexpected ideas and charmingly written. If you like puzzles, this is a delightful and original approach, and you'll pick up a lot of quirky delights along the way."—Tim Harford, author of The Data Detective
 
"Think you're a master codebreaker, expert linguist or a genius puzzler? Then it's time to prove your skills with these brain-teasers."—BBC Science Focus
 
"An irresistible linguistic workout—challenging and deeply satisfying."—Gaston Dorren, author of Lingo: A Language Spotter's Guide to Europe
 
"A cornucopia of ingenious and insightful challenges, each with a bonus commentary about the fascinating diversity of the world's languages, all presented in a friendly and engaging style. The title is exactly right. It's the perfect companion for anyone who loves puzzles and languages."—David Crystal, author of The Stories of English
 
"If you love a puzzle—and you love language—you'll love what Alex Bellos has done here."—Gyles Brandreth, author of Dancing by the Light of the Moon
 
"Language is a puzzle, so this compendium of language puzzles is a great idea; and the great thing about puzzles is they give us problems that we didn't even know were problems."—Michael Rosen, author of Alphabetical: How Every Letter Tells a Story
 
"The only puzzle book I've seen that manages to befuddle both sides of the brain at the same time."—Dara Ó Briain, comedian and author of Secret Science
 
"You can probably think of someone who needs a present for these 'Oh my god it's getting dark early and the world is full of germs' times. This is it!"—Lynne Murphy, professor of linguistics at the University of Sussex

"Challenge the mind . . . with journalist and puzzle expert Alex Bellos, who has assembled all of our illuminating language challenges."—Atlas Obscura