101 Horror Books to Read Before You're Murdered (Paperback)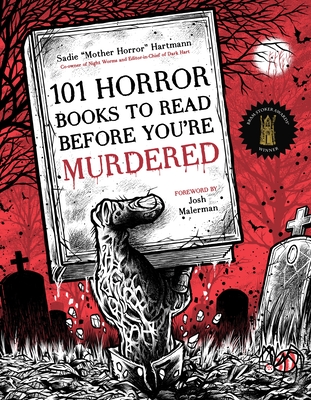 $23.99

Usually Ships in 1-5 Days
Description
---
The Ultimate List of Must-Read Horror

Curious readers and fans of monsters and the macabre, get ready to bulk up your TBR piles! Sadie "Mother Horror" Hartmann has curated the best selection of modern horror books, including plenty of deep cuts. Indulge your heart's darkest desires to be terrified, unsettled, disgusted, and heartbroken with stories that span everything from paranormal hauntings and creepy death cults to small-town terrors and apocalyptic disasters. Each recommendation includes a full synopsis as well as a quick overview of the book's themes, style, and tone so you can narrow down your next read at a glance. Featuring a foreword by New York Times bestselling author Josh Malerman and five brand-new essays from rising voices in the genre, this illustrated reader's guide is perfect for anyone who dares to delve into the dark.
About the Author
---
Sadie Hartmann, also known as "Mother Horror" online, is the Bram Stoker Award®–nominated editor of Dark Hart Books and co-owner of the horror fiction subscription company Night Worms. She lives in the Pacific Northwest with her husband, their children, and a Frenchie named Owen.
Praise For…
---
"If you're a fan of horror novels—or you're just getting started and want to know where to begin—then this book is absolutely f*cking essential."
— Chuck Wendig, bestselling author of The Book of Accidents and Wanderers

"Part reading guide, part love letter to the modern era of horror fiction, this book is fun, insightful, and beautifully illustrated. A true celebration of the genre."
— Rachel Harrison, bestselling author of Cackle and Such Sharp Teeth

"There's plenty in here for every horror reader to enjoy, mull over, and argue about. You need this book."
— Ellen Datlow, editor of the annual Best Horror of the Year

"If you aren't a horror fan after reading this, then check your pulse. No, seriously, check it, just in case."
— Paul Tremblay, bestselling author of The Cabin at the End of the World

"Move over Necronomicon, our own Mother Horror brings us a new dark compendium. From cosmic horror to body horror, to slashers and serial killers and straight up creepy ass kids, Sadie Hartmann offers up recommendations for some of the most memorable works of horror in our times. A fantastic guide for anyone looking to feed the devouring empty void in their soul--or fill up a bookshelf."
— P. Djèlí Clark, author of Ring Shout and A Master of Djinn

"Hartmann's writing is enthusiastic and infectious; reading about these books feels like you're getting the most exciting recommendations from your best friend while pausing for tea at a bookstore cafe. This book is about very dark subjects, but it's so much fun."
— Screen Anarchy