The Roman Empire the Empire of the Edomite (Paperback)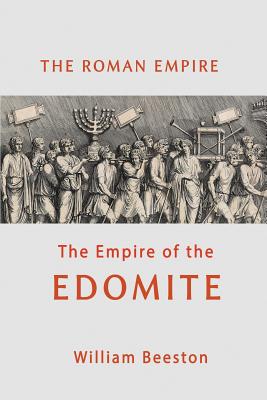 $9.99

Usually Ships in 1-5 Days
Description
---
"Strong evidence that the Roman Empire is of Edomite origin ... left our minds in bewilderment ... is one to be studied." -Church of England Quarterly Review

William Beeston in his 1858 book "The Roman Empire the Empire of the Edomite" contends that the Roman Empire was of Edomite origin, displaying a great amount of research into ancient documents and traditions, and gives some sound expositions of a few obscure parts of the Sacred Oracles.

The Hebrew word Edom means "red", and is derived from the name of its founder, Esau, the elder son of the Hebrew patriarch Isaac, because he was born "red all over". As a young adult, he sold his birthright to his brother Jacob for "red pottage". The Tanakh describes the Edomites as descendants of Esau. Perhaps referencing this familial connection, the Old Testament commands: "Thou shalt not abhor an Edomite; for he is thy brother." Deuteronomy 23:7

Edom was an ancient kingdom in Transjordan located between Moab to the northeast, the Arabah to the west and the Arabian Desert to the south and east. Most of its former territory is now divided between Israel and Jordan. Edom appears in written sources relating to the late Bronze Age and to the Iron Age in the Levant, such as the Hebrew Bible and Egyptian and Mesopotamian records.

At the time of its publication, Beeston's research overturned in the minds of some long standing notions concerning the origin of the Roman empire or at least cast considerable doubt upon them.

His scholarship, and peculiar line of investigation, enabled him to adduce some strong evidence that the Roman Empire is of Edomite origin. The grounds upon which he conducted his enquiry are, Jewish tradition, Hebrew and Phoenician etymology, and Scripture prophecy; bringing to bear upon each branch some confirmatory evidence from either heathen historians or Christian philologists. The book is worthy of attention, and is one to be studied, not glanced at.

Black Hebrew Israelites (also called Black Hebrews, African Hebrew Israelites, and Hebrew Israelites) are groups of Black Americans who believe that they are descendants of the ancient Israelites. Black Hebrews adhere in varying degrees to the religious beliefs and practices of both Christianity and Judaism. One belief often expressed is a belief that Europeans are descendants of Israel's twin brother Esau, also known as Edom. (Genesis 25:25).