What the Ear Hears (and Doesn't): Inside the Extraordinary Everyday World of Frequency (Paperback)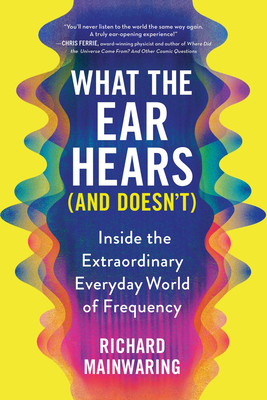 $16.99

Usually Ships in 1-5 Days
Description
---
"You'll never listen to the world the same way again. A truly ear-opening experience!" —Chris Ferrie, award-winning physicist and author of Where Did the Universe Come From? And Other Cosmic Questions
For readers of Neil deGrasse Tyson and Bill O'Neill, What the Ear Hears (and Doesn't) is a fascinating science book for adults that explores the physics principle of frequency and the (sometimes weird) role it plays in our everyday lives.
What do the world's loneliest whale, a black hole, and twenty-three people doing Tae Bo all have in common?
In 2011, a skyscraper in South Korea began to shake uncontrollably without warning and was immediately evacuated. Was it an earthquake? An attack? No one seemed quite sure. The actual cause emerged later and is utterly fascinating: Twenty-three middle-aged folks were having a Tae Bo fitness class in the office gym on the twelfth floor. Their beats had inadvertently matched the building's natural frequency, and this coincidence—harnessing a basic principle of physics—caused the building to shake at an alarming rate for ten minutes. Frequency is all around us, but little understood.
Musician, composer, TV presenter, and educator Richard Mainwaring uses the concept of the Infinite Piano to reveal the extraordinary world of frequency in a multitude of arenas—from medicine to religion to the environment to the paranormal—through the universality of music and a range of memorable human (and animal) stories laced with dry humor. Whether you're science curious, musically inclined, or just want to know what a Szechuan pepper has to do with physics, What the Ear Hears (and Doesn't) is an immensely enjoyable read filled with "did you know?" trivia you'll love to share with friends.
About the Author
---
Richard Mainwaring is a performing musician, composer, TV presenter and educator. He has composed music for Netflix, the BBC, and the International Space Station. He is a classically trained multi-instrumentalist, and has worked with artists as diverse as Hugh Laurie, Larry Adler, Eartha Kitt, Hayley Westenra and Tom Odell. He has also presented over fifty short films for the BBC.
Praise For…
---
"You'll never listen to the world the same way again. A truly ear-opening experience!" — Chris Ferrie, award-winning physicist and author of Where Did the Universe Come From? And Other Cosmic Questions

"Mainwaring's book brilliantly connects the expansive science of frequency to the familiar tones and music of everyday life. Readers will find themselves humming along and imagining themselves in concert with a black hole, a lonely whale, or a speeding train as they learn about the rich mix of vibrations that permeate the world around us." — Emily Levesque, award-winning astronomer and author of The Last Stargazers

"Musician Mainwaring takes a deep dive into the 'extraordinary world of vibration, waves, and frequency' in his zippy debut... Music-minded readers won't regret tuning in." — Publishers Weekly