The History of Sketch Comedy: A Journey through the Art and Craft of Humor (Hardcover)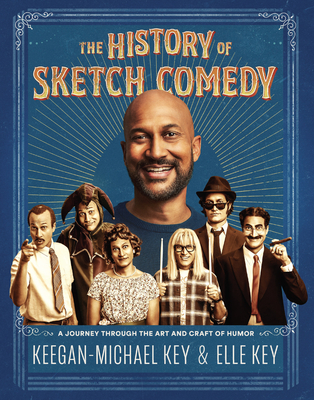 $29.95

Usually Ships in 1-5 Days
Description
---
"A boisterous debut … the authors are as funny as one would expect … this is a hoot."
―
Publishers Weekly
"Will entice fans of Key & Peele … a fun and funny primer on the art form."
―
Booklist
Authors Keegan-Michael Key and Elle Key build on the popularity of their 2022 Webby Award
–
winning podcast and delve deeper into the world of sketch, helped along with new essays created expressly for the book by comedy greats.
The History of Sketch Comedy
will appeal to all kinds of comedy fans as well as fans of Keegan-Michael Key, whether they know him from his Emmy and Peabody-winning work on
Key & Peele;
 his roles in
Fargo
,
The Prom
,
Schmigadoon!
,
The Bubble
, and the upcoming
Wonka
; voiceover work in
The Lion King
; or as President Barack Obama's anger translator, Luther.
With epic personal tangents and hilarious asides, the Keys take you on an illuminating journey through all facets of comedy from the stock characters of
commedia del arte
in the 16th century, to the rise of vaudeville and burlesque, the golden age of television comedy, the influence of the most well-known comedy schools, and the ascension of comedy films and TV specials—all the way through to a look at the future of sketch on social media platforms. Along the way, we hear tales of Keegan's childhood, his comedy influences, and the vicissitudes of his career path. As the
New York Times
said in its review of their podcast, "this comedy nerd history is filtered through memoir, with Key relating stories of his budding fandom, training and rise from improv comic to television sketch artist."
Part memoir, part masterclass, and hilariously embellished with priceless commentary,
The History of Sketch Comedy
highlights the essential building blocks of sketch comedy while interweaving Keegan's personal career journey and the influence of his comedy heroes. The text is complemented by original art by Elle Key and exclusive essays compiled from conversations with influential performers, sketch writers, and uber comedy fans including Mel Brooks, Julia Louis-Dreyfus, Mike Myers, Chris Rock, John Oliver, Tracy Morgan, Carol Burnett, Jim Carrey, Jordan Peele, and many more. This book is as entertaining as it is enlightening—a must-read for fans of comedy and all who aspire to comic greatness.
EXPANDING THE HIT PODCAST: With content from the #1 trending, NAACP-award-nominated and Webby-Award-winning Audible podcast, and featuring new-for-the-book material as well as never-before-heard stories and essays, this book will be a hit for newcomers and avid listeners of the podcast alike.
MASTER OF THE MEDIUM: Keegan-Michael Key is a bona fide maestro of comedy, with the chops, experience, and love for the history of the medium that make him the perfect expert on all things sketch. As co-writer Elle Key likes to say, "If Keegan-Michael Key was a guest lecturer at NYU teaching a course called 'The History of Sketch Comedy,' it would be a very popular class."
EXCLUSIVE ESSAYS: Keegan and Elle interviewed over a dozen comedy legends exclusively for this book, and got their takes on topics ranging from the influence of
Saturday Night Live
, to women in comedy, to the mathematics of sketch. Hear, in their own words, from Mel Brooks, Mike Myers, Jordan Peele, Julia-Louis Dreyfus, John Oliver, Tracy Morgan, Stephen Colbert, Carol Burnett, Chris Rock, Bob Odenkirk, Mike Birbiglia, Matt Lucas, Ken Jeong, Christopher Guest, Gary Oldman, Kevin Nealon, Laraine Newman, and Jim Carrey.
GIFTABLE VOLUME OF COMEDY GOLD: Original illustrations and personal photographs throughout make this unique comedy book as visually entertaining as it is enlightening. The perfect gift for comedy fans of all ages as well as anyone aspiring to write, perform, or produce comedic art.
Perfect for:
Comedy lovers of all kinds
Fans of Key & Peele
Fans of improv, sketch, stand-up, and shows like SNL, MadTV, Monty Python, and Mr. Show
Gift giving or self-purchase for established and aspiring comedians
Readers of such bestsellers as Bossypants, Yes Please, Is Everyone Hanging Out Without Me?, Born Standing Up, and Comedy Comedy Comedy Drama
About the Author
---
Keegan-Michael Key is an Emmy® and Peabody Award-winning actor, writer, and producer with an extraordinarily diverse skill set and wide-ranging talent in both comedy and drama. In the comedy world, Keegan-Michael is perhaps best known for starring alongside Jordan Peele in their multiple-award-winning show Key & Peele. His other credits include leading turns in Apple TV+'s Emmy-nominated Schmigadoon!, playing Meryl Streep's love interest in Netflix's The Prom, his Critic's Choice nominated role in Hulu's Reboot, and starring alongside Timothée Chalamet in the Warner Bros. Pictures' feature Wonka. His voicework in feature animations includes The Lion King, Toy Story 4, and The Super Mario Brothers Movie. He made his Off-Broadway debut in Hamlet with Oscar Isaac, and his Broadway debut in Steve Martin's Meteor Shower with Amy Schumer. Keegan-Michael redefineswhat it means to be a multi-hyphenate in the worlds of film,television, and theater, and his wildly varied and indelible performanceshave won him fans of all ages and backgrounds.

Elle Key is an award-winning film, television, and commercial director, writer, and producer. She was born in the Bronx and spent her early years working off-Broadway with theater companies such as Malaparte, Naked Angels, and the Atlantic. She went on to produce a number of independent feature films (including Nanette Burstein's Sundance award-winning documentary American Teen and August with Josh Hartnett, Adam Scott, Naomi Harris, and David Bowie, and was a second unit producer on Doug Liman's Fair Game with Sean Penn and Naomi Watts). She is the co-president and founder of Bigger Picture Media Group and has been writing and producing for almost a decade with her partner Keegan-Michael Key. She has helmed numerous national commercial campaigns as well as several projects for the NFL, the Pro Bowl, the Peabody Awards, and the Gotham Awards, and she was the first female head writer for The NFL Honors. She was an executive producer on Brain Games for Disney/Nat Geo, as well as an executive producer with James Corden for Game On! for CBS. She is a member of the Creative Coalition and Women in Film, and is on the Leadership Council of RFK Human Rights. In 2022, Elle won the People's Voice Webby Award for Best Writing for her original Audible series The History of Sketch Comedy.
Praise For…
---
"A boisterous debut… the authors are as funny as one would expect …this is a hoot."
—Publishers Weekly
"hilarious and informative."
—Associated Press
"[An] entertaining journey...Readers will gain genuine insight into how sketch comedy has evolved and what's behind the creative process."
—Library Journal
"Elle and Keegan's collaboration is such a joy to read. It's a rare occasion where the topic of comedy is being explored by people who are genuinely funny. I recommend this gem to everyone who loves comedy."
—MIKE MYERS
"The Keys share the evolution of sketch in a way that keeps you laughing with each turn of the page. They cover provocative insights about comedy that would have never occurred to me. Elle and Keegan's knowledge and enthusiasm for the subject is infectious . . . and of course now I'm hooked."
—JENNIFER COOLIDGE
"Elle and Keegan unlock the secrets of comedy from the beginning of history all the way up to present day. Whether you are a working actor or just a student of the game . . . you will love this book!"
—JACK BLACK
Selection: "15 Books By Black Authors We Can't Wait For You To Read This Fall"
— Essence Magazine
"A fun and funny primer on the art form."
—Booklist
"
The History of Sketch Comedy
is a highly informative and entertaining read that's sure to inspire instant binge- watching and a groundswell of sketch-centric enthusiasm."
– Bookpage