All Down The Line: A People's History of the Rolling Stones 1972 North American Tour (Paperback)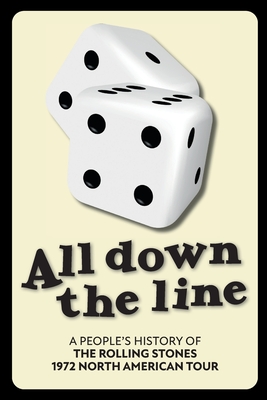 $24.99

Usually Ships in 1-5 Days
Description
---
1972 saw the Rolling Stones perform on American soil for the first time since the stabbing of a fan by Hell's Angels at Altamont three years earlier. The Beatles having split up - and with Jimi Hendrix, Janis Joplin and Jim Morrison all dead - the Stones embodied what was
left of Sixties counter culture. But they were close to broke and being impacted by drug use, and did America really want to see a band some thought incapable of functioning as a live act? Plus the United States was still coming to terms with 1970's Kent State massacre
and grappling with the Vietnam War, the draft and the civil rights movement.
So it was that the Stones travelled coast-to-coast, playing 51 shows in 32 cities in 54 days to promote their latest album, Exile on Main St. With a groundbreaking new stage show and a setlist drawn mainly from their last four albums, demand for tickets was high and the tour a sell-out. But the Stones and their fans found themselves going head-to-head with the authorities from the outset. Concerts were marked by crowd riots in the clamour for tickets and there were drug busts and tear gassings thanks to over-zealous cops. And in Rhode Island, Mick Jagger and Keith Richards wound up in police custody while a full house in Boston was expecting them on stage.
In All Down the Line - A People's History of the Rolling Stones 1972 North American Tour, over 300 fans look back 50 years at the most infamous tour in rock 'n' roll history and remember every show, from opening night in Vancouver to the tour finale (and Mick
Jagger's 29th birthday) at New York City's Madison Square Garden less than two months later. Ladies and gentlemen, the Rolling Stones.