Rock Tree Bird (Paperback)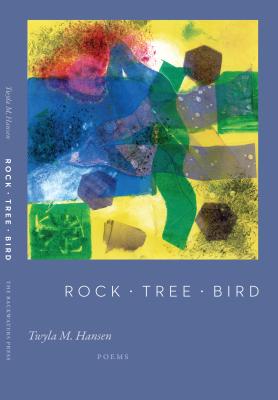 $16.00

Usually Ships in 1-5 Days
Description
---
2018 Nebraska Book Award
​2018 WILLA Literary Award

This collection of poems by the State Poet of Nebraska covers significant emotional territory while remaining firmly grounded in the landscape. From memories of the isolation and beauty of growing up on a farm, to a burgeoning awareness as a teenager of the economic and cultural forces waged against family farming, to coming to terms with the legacies of her parents after their passing, and, finally, arriving at an appreciation of nature and the environment wherever and whenever she finds it, Twyla M. Hansen offers poems that are alternately sad, sweet, funny, moving, human, and humane.
About the Author
---
Twyla Hansen's latest book is ROCK TREE BIRD (The Backwaters Press, 2017). Her book DIRT SONGS: A PLAINS DUET (The Backwaters Press, 2011), written with rancher-writer Linda Hasselstrom, won the 2012 Nebraska Book Award in poetry, and was a finalist for the Willa Literary Award and High Plains Book Award. She has five previous books, including POTATO SOUP (The Backwaters Press, 2003), which won a 2004 Nebraska Book Award. Her writing has appeared in a wide variety of publications, including Prairie Fire newspaper, Prairie Schooner, Crab Orchard Review, Ascent, Natural Bridge, Organization & Environment, Nebraska Presence: An Anthology of Poetry (Backwaters Press 2007), Encyclopedia of the Great Plains (University of Nebraska Press, 2004), Crazy Woman Creek: Women Rewrite the American West (Houghton Mifflin, 2004), Poets Against the War (Nation Books, 2003), and A Contemporary Reader for Creative Writing (Harcourt Brace, 1994). Her BS and MA are from the University of Nebraska-Lincoln. She was raised in northeast Nebraska on land her grandparents farmed in the late 1800s as immigrants from Denmark. She is a creative writing presenter through the Nebraska Humanities Council, and lives and works in Lincoln, where her wooded acre is maintained as an urban wildlife habitat, recognized by the 1994 Mayor's Landscape Conservation Award.