Zinn & the Art of Road Bike Maintenance: The World's Best-Selling Bicycle Repair and Maintenance Guide (Paperback)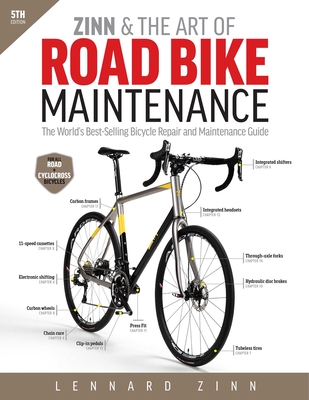 Description
---
Zinn & the Art of Road Bike Maintenance is the world's best-selling guide to bicycle repair and maintenance.
From basic repairs like how to fix a flat tire to advanced overhauls of drivetrains and brakes, Lennard Zinn's clearly illustrated guide makes every bicycle repair and maintenance job easy for everyone.
Lennard Zinn is the world's leading expert on bike maintenance and repair. His friendly step-by-step guide explains the tools you'll need and how to know you've done the job right. The book's interior is easy to read, even in a dimly-lit garage or workshop. Hundreds of hand-drawn illustrations and exploded parts diagrams show just the right level of detail to lead you through every bicycle repair task.
This smartly organized guide shows how to repair new and old bicycles from top to bottom. In over 500 pages, Zinn's guide includes simple instructions for hundreds of bike maintenance and repair jobs:
Basics: How to fix a flat tire, lube a bicycle chain, adjust the brakes
Emergency repairs: How to fix a broken chain, tighten loose spokes, repair a bent derailleur
Easy shifting: How to adjust shifters, derailleurs, and cables for clean and smooth shifting
Wheels: How to true a wheel, install a new tire, change a cassette, replace broken spokes, build your own wheels
Overhauls: How to service and replace pedals, chains and chainrings, saddles, handlebars, stems, headsets, forks, bottom brackets
New tech: How to maintain 11-speed systems, electronic and wireless shifters, disc brakes
Cyclocross: How to set up a 'cross bike for racing, select the right components, and make quick repairs
Troubleshooting: How to figure out what's wrong with any bike and fix it
Zinn & the Art of Road Bike Maintenance
makes bicycle repair and maintenance easy, quick, affordable, and fun. With Zinn at your side, you'll know how to keep your bicycling running smoothly for years.
What's New in Zinn & the Art of Road Bike Maintenance, 5th Ed.:
More than 700 comprehensive illustrations and exploded views.
New chapter on electronic shifting covers maintenance, service, repair, and troubleshooting of all Shimano, SRAM, and Campagnolo electronic shifting groups.
New chapter on disc brakes covers maintenance, service, and repair of all hydraulic and mechanical systems.
New tech covered in depth: through-axle forks, SRAM eTap wireless shifting, second generation Shimano and Campagnolo electronic shifting, direct-mount sidepull brakes, SRAM X-Sync 1x11 cyclocross systems, tubular tire gluing tapes.
New troubleshooting charts
New master guide to press-fit bottom brackets
Also covered in the 5th edition: All derailleur shifting systems (5-speed through 11-speed); all bottom bracket systems (cone-and-cup through press-fit); all brake systems (including caliper, V-brake, cantilever, and disc); all headset, stem, handlebar and fork systems; wheelbuilding for all bikes including cyclocross and disc-brake wheels; special sections on cyclocross throughout including troubleshooting, maintenance, service, repair, and equipment selection; updated and expanded torque tables; complete illustration index and complete subject index.
About the Author
---
Lennard Zinn was a member of the US national cycling team and is a lifelong endurance athlete. He has reported on major stories for VeloNews for 30 years and is the author of the world's best-selling guide to bicycle maintenance and repair. Zinn has a degree in physics and has built custom bicycles for over 30 years.
Praise For…
---
Praise for Lennard Zinn and His Bike Maintenance Guides

"Longtime VeloNews technical writer Lennard Zinn's maintenance books are bibles for both pro and amateur wrenches. Zinn & the Art of Road Bike Maintenance is a beast of a book and can help you remedy any problem that might arise while working on a road bike. It's packed with in-depth explanations and useful diagrams. No workbench is complete without it."
— VeloNews magazine

"Lennard Zinn may work for 'the enemy', but we at BikeRadar will be the first to acknowledge his contributions to the dark art of bike fixin'. His bible for the home (and pro) mechanic is now in its fifth edition, with updates covering all the latest tech...There are almost 500 pages in this impressive volume, which is extensively illustrated to help you tackle virtually any bike repair task."
— BikeRadar.com

"Zinn & the Art of Road Bike Maintenance is the gold standard textbook for aspiring home mechanics. From simple tasks such as fixing a flat tire to advanced overhauls of drivetrains or brakes, this book's step-by-step guides explain the tasks and tools your newbie will need to get the job done right."
— RoadBikeReview.com

"This smartly organized guide shows how to repair new and old bicycles from top to bottom. Zinn & the Art of Road Bike Maintenance is essential cycling gear for all road and cyclocross riders."
— Crossbikereview.com

"Lennard Zinn is an institution in the bicycle worlda legend. Legions of cyclists have learned to repair bikes from him, ridden bicycles he's built, or used his advice as guidance on how to better enjoy the world on two wheels."
— Bicycle Times magazine

"Today's bicycles are complicated machines that can be expensive to maintain and repair. Zinn has written this book to help both the leisure bike rider and expert mechanic handle almost any problem associated with road bikes."
— Library Journal

"Lennard Zinn really is the world's most helpful and comprehensive human when it comes to bicycle repair and maintenance."
— Bike magazine

"Zinn & the Art of Road Bike Maintenance has instructions on anything an aspiring wrench would want to know. What impresses most is Lennard's overall approach of simplifying a task and reminding us how rewarding it is to perform our own service."
— Podium Café

"Lennard Zinn is a veritable cycling Einstein and, as a naturally gifted teacher, he has the unique ability to explain even the most difficult mechanical task. So unless you currently ride on a high-profile pro team with your own mechanic (and maybe even then), Zinn & the Art of Road Bike Maintenance is an absolute 'must-have' book."
— Davis Phinney, Olympic medalist, national champion, and Tour de France stage winner

"We often hear that triathletes don't do their own bike maintenance – that we don't know (and don't care) how to wrench our bikes. But as athletes who make a sport of flying our bikes all over the world only to build them back up with just a pair of Allen wrenches, we know all too well how important it is to know the ins and outs of bike care. Your copy of Zinn probably won't be your every day go-to guide for bike care. But on those days when your race steed needs some serious maintenance, or even just when you're proactively researching for a little more knowledge if the worst should strike you on the road far from home – you will be glad you have Zinn in your library."
— AeroGeeks