Chip War: The Fight for the World's Most Critical Technology (Hardcover)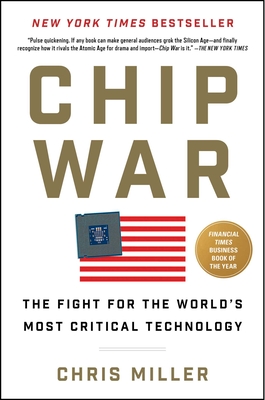 $30.00

Usually Ships in 1-5 Days
Description
---
The Financial Times Business Book of the Year, this epic account of the decades-long battle to control one of the world's most critical resources—microchip technology—with the United States and China increasingly in fierce competition is "pulse quickening…a nonfiction thriller" (The New York Times).

You may be surprised to learn that microchips are the new oil—the scarce resource on which the modern world depends. Today, military, economic, and geopolitical power are built on a foundation of computer chips. Virtually everything—from missiles to microwaves—runs on chips, including cars, smartphones, the stock market, even the electric grid. Until recently, America designed and built the fastest chips and maintained its lead as the #1 superpower, but America's edge is in danger of slipping, undermined by players in Taiwan, Korea, and Europe taking over manufacturing. Now, as Chip War reveals, China, which spends more on chips than any other product, is pouring billions into a chip-building initiative to catch up to the US. At stake is America's military superiority and economic prosperity.

Economic historian Chris Miller explains how the semiconductor came to play a critical role in modern life and how the US became dominant in chip design and manufacturing and applied this technology to military systems. America's victory in the Cold War and its global military dominance stems from its ability to harness computing power more effectively than any other power. Until recently, China had been catching up, aligning its chip-building ambitions with military modernization.

Illuminating, timely, and fascinating, Chip War is "an essential and engrossing landmark study" (London Times).
About the Author
---
Chris Miller is Assistant Professor of International History at the Fletcher School of Law and Diplomacy at Tufts University. He also serves as Jeane Kirkpatrick Visiting Fellow at the American Enterprise Institute, Eurasia Director at the Foreign Policy Research Institute, and as a Director at Greenmantle, a New York and London-based macroeconomic and geopolitical consultancy. He is the author of three previous books—Putinomics,The Struggle to Save the Soviet Economy, and We Shall Be Masters—and he frequently writes for The New York Times, The Wall Street Journal, Foreign Affairs, Foreign Policy, The American Interest, and other outlets. He received a PhD in history from Yale University and a BA in history from Harvard University. Visit his website at ChristopherMiller.net and follow him on Twitter @CRMiller1.


Praise For…
---
Financial Times Business Book of the Year
An Economist Best Book of the Year
New York Times Bestseller
#1 on Fortune's Spring CEO Survey of the Best Book They've Read in the Past Year
Winner 2023 PROSE Award for Outstanding Work by a Trade Publisher
Winner of the Arthur Ross Book Award
Shortlisted for the Lionel Gelber Prize

"Pulse quickening…Chip War makes a whale of a case: that the chip industry now determines both the structure of the global economy and the balance of geopolitical power. But the book is not a polemic. Rather, it's a nonfiction thriller — equal parts "The China Syndrome" and "Mission Impossible"….If any book can make general audiences grok the silicon age — and finally recognize how it rivals the atomic age for drama and import — Chip War is it."
—New York Times

"A riveting history of the semiconductor by Chris Miller, a historian at Tufts University…His volume could not be better timed…[features] vivid accounts [and] colorful characters."
—Financial Times

"In Chip War, his elegant new book, Chris Miller of Tufts University shows how economic, geopolitical and technological forces shaped this essential industry… For those seeking to understand it better, Chip War is a fine place to start."
—The Economist

"Fascinating…A historian by training, Miller walks the reader through decades of semiconductor history – a subject that comes to life thanks to [his] use of colorful anecdotes…Chip War makes clear that the battle for the multi-billion-dollar struggle for semiconductor supremacy in an increasingly-digitized world will only intensify in the years to come."
—Forbes

"The most interesting book [I have] read all year."
—Ryan Heath, writing in Politico's "Global Insider"

"An insightful history… Well-researched and incisive, this is a noteworthy look at the intersection of technology, economics, and politics."
—Publisher's Weekly

"An important wake-up call with solid historical context…America's tech lead is shrinking, so the time has come to develop policies to ensure that the secret machinery of the digital era continues to operate smoothly…Miller's implicit message to U.S. policymakers is to recognize the danger and act accordingly."
—Kirkus Reviews

"Miller uncovers the complex history of the microchip...Touching on U.S.-China relations, globalization, and the microchip industry, this insightful book is key to understanding the chip's power in shaping all aspects of society in the U.S. and the world at large."
—Booklist