Great Short Books: A Year of Reading—Briefly (Paperback)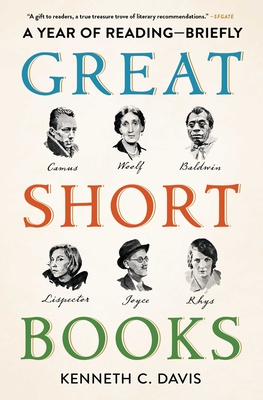 $19.00

Usually Ships in 1-5 Days
Description
---
This entertaining guide to some of the best short novels of all time, from a bestselling historian, is the "perfect gift for busy bibliophiles" (BookPage).

Experience the joys of literature with this this "exciting guide to all that the world of fiction has to offer" (The New York Times Book Review): a compulsively readable, deeply engaging discussion of great short novels. A journey into fiction designed with our contemporary attention spans in mind, Great Short Books suggests fifty-eight excellent short novels, all under 200 pages—easily readable in a week or less—a fresh approach to a fun, fascinating year of reading.

From hard-boiled fiction to magical realism, the 18th century to the present day, Great Short Books spans genres, cultures, countries, and time to present an enchanting and diverse selection of acclaimed and canonical novels. From works in translation like Yu Miri's Tokyo Ueno Station and Marguerite Duras's The Lover to popular, acclaimed authors like Toni Morrison and James Baldwin, this compilation is a celebration of classics from the historic to contemporary—plus a few bestsellers, including Stephen King and Colson Whitehead. Each entry includes the novel's opening lines, a spoiler-free plot summary, a "why you should read it" section, and suggestions for what to read next.

"An entertaining journey with a fun, knowledgeable guide" (Booklist), this eclectic collection is a fun and practical book for any passionate reader hoping to broaden their literary IQ—or anyone who wants to find an effortless reentry into reading.
About the Author
---
Kenneth C. Davis has lived a life in books. He is the New York Times bestselling author of America's Hidden History and Don't Know Much About History, which gave rise to his series of books and audiobooks on a range of subjects, including mythology, the Bible, geography, and the Civil War. Davis's work has appeared in The New York Times, The Washington Post, and Smithsonian magazine, among other publications. He has appeared on national television and radio shows, including CBS This Morning, Today, and NPR. He lives in the West Village of New York City with his wife, Joann Davis.
Praise For…
---
"An exciting guide to all that the world of fiction has to offer in 58 short novels — from The Great Gatsby and Lord of the Flies to the contemporary fiction of Colson Whitehead and Leïla Slimani — that, 'like a first date,' offer pleasure and excitement without commitment."
—The New York Times Book Review

"Anyone who's eternally time-strapped will treasure Kenneth C. Davis' Great Short Books. This nifty volume highlights 58 works of fiction chosen by Davis for their size (small) and impact (enormous). Davis delivers readerly insights and plenty of literary trivia in this handy guide. Outside of extra time, it's the perfect gift for busy bibliophiles."
—BookPage

"A gift to readers, a true treasure trove of literary recommendations."
—SF Gate

"Fulfilling his book's title, Davis offers short, encouraging essays on 58 short books, from the obvious (Animal Farm) to the surprising (Leïla Slimani's The Perfect Nanny)."
—Milwaukee Journal Sentinel

"Delightfully accessible ... Great Short Books, a satisfying read itself, is a useful addition to any collection, well beyond the suggested 'year of reading.'"
—Shelf Awareness, starred review

"Won't your reader enjoy Great Short Books by Kenneth C. Davis this holiday? The answer is "yes": this book is about books – specifically, more than fifty short novels by authors you know and don't know. Wrap it up with a gift certificate to your favorite bookstore."
—The Bookworm Sez

"Davis feels that novels of 200 pages or less often don't get the recognition they deserve, and this delightful book is the remedy ... Davis invites readers to venture out of their comfort zone to experience the joy of the short novel ... A must-purchase for public and school libraries."
—Booklist, STARRED review

"Davis, who has written numerous books about literature and history, believes that books of less than 200 pages can be a good antidote to our troubled times and the stream of doom-laden news… his love of books and reading shines through… An entertaining journey with a fun, knowledgeable guide."
—Kirkus

"Thoughtful ... Davis's conversational tone makes him a great guide to these literary aperitifs. This is sure to leave book lovers with something new to add to their lists."
—Publishers Weekly