Sounds Wild and Broken: Sonic Marvels, Evolution's Creativity, and the Crisis of Sensory Extinction (Hardcover)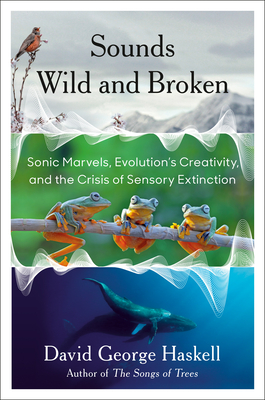 Description
---
Finalist for the 2023 Pulitzer Prize in General Nonfiction and the 2023 PEN/E.O. Wilson Literary Science Writing Award

Winner of the Acoustical Society of America's 2023 Science Communication Award

"[A] glorious guide to the miracle of life's sound." —The New York Times Book Review

A lyrical exploration of the diverse sounds of our planet, the creative processes that produced these marvels, and the perils that sonic diversity now faces

We live on a planet alive with song, music, and speech. David Haskell explores how these wonders came to be. In rain forests shimmering with insect sound and swamps pulsing with frog calls we learn about evolution's creative powers. From birds in the Rocky Mountains and on the streets of Paris, we discover how animals learn their songs and adapt to new environments. Below the waves, we hear our kinship to beings as different as snapping shrimp, toadfish, and whales. In the startlingly divergent sonic vibes of the animals of different continents, we experience the legacies of plate tectonics, the deep history of animal groups and their movements around the world, and the quirks of aesthetic evolution.
 
Starting with the origins of animal song and traversing the whole arc of Earth history, Haskell illuminates and celebrates the emergence of the varied sounds of our world. In mammoth ivory flutes from Paleolithic caves, violins in modern concert halls, and electronic music in earbuds, we learn that human music and language belong within this story of ecology and evolution. Yet we are also destroyers, now silencing or smothering many of the sounds of the living Earth. Haskell takes us to threatened forests, noise-filled oceans, and loud city streets, and shows that sonic crises are not mere losses of sensory ornament. Sound is a generative force, and so the erasure of sonic diversity makes the world less creative, just, and beautiful. The appreciation of the beauty and brokenness of sound is therefore an important guide in today's convulsions and crises of change and inequity.
 
Sounds Wild and Broken is an invitation to listen, wonder, belong, and act.
About the Author
---
David Haskell's work integrates scientific, literary, and contemplative studies of the natural world. He is a professor of biology and environmental studies at the University of the South and a Guggenheim Fellow. His 2017 book The Songs of Trees won the John Burroughs Medal for Outstanding Nature Writing. His 2012 book The Forest Unseen was a finalist for the Pulitzer Prize and the PEN/E.O. Wilson Literary Science Writing Award, and won the 2013 Best Book Award from the National Academies, the National Outdoor Book Award, and the Reed Environmental Writing Award.
Praise For…
---
"Haskell's own joy of discovery makes it irresistible to tune in . . . [he] is spot on that sensory connection can inspire people to care in ways that dry statistics never will . . . Haskell's previous books [...] suggested the emergence of a great poet-scientist. [Sounds Wild and Broken] affirms [him] as a laureate for the earth, his finely tuned scientific observations made more potent by his deep love for the wild he hopes to save."
—New York Times Book Review 

"Earth sings and rings and warbles: a musical planet, maybe the only one in the universe. As David George Haskell tells it in his captivating new book, Sounds Wild and Broken, it is astonishing good fortune—and a fearsome responsibility—to be given this music and the ears to hear it with . . . Sounds Wild and Broken offer[s] one delight after another."
—Kathleen Dean Moore, Scientific American

"[Haskell] is something of an idiosynchratic genius . . . [his] previous works leveraged two tools that established him as one of America's premier nature writers: his Zen-like ability to pay granular attention to what most people ignore and a lyrical writing style few scientists can muster . . . As he did in The Songs of Trees, Haskell enlivens the science by taking us on a journey, hopping from continent to continent. He wanders the mountains of southern France, treks Ecuador's Amazon jungle, and noses about eucalyptus forests in New South Wales, all to illustrate the connection between sound and place."
—Outside 

"A moving paean to Earth's fraying soundtrack . . . [Haskell] traces, beautifully and brilliantly […] all the infinite serial interactions between communication and reception . . . [Sounds Wild and Broken is] a reminder that the narrow aural spectrum on which most of us operate, and the ways in which human life is led, blocks out the planet's great, orchestral richness."
—The Guardian

"A soaring panegyric not just to the human ear but also to the auditory equipment of every living being . . . It's beautiful, Haskell's devotion to his ears . . . Haskell wants us, above all, to listen, to use our glorious ciliary hairs for good. Those twitching hairs delivered us from pond scum, after all. Maybe, if properly attuned, they can deliver us from catastrophe."
—Los Angeles Review of Books

"Haskell's voice is unique in contemporary nature writing . . . [he] creates a pleasing poetry of nature, his carefully crafted sentences luring readers in for the long haul . . . glorious."
—Chapter16.org

"Unsurprisingly, Haskell is attuned to the music of written language; his sonic descriptions ring with the truth of poetry. . . Thanks to Haskell's profound prose, readers of Sounds Wild and Broken get to eavesdrop on cloistered conversations: rainforest mice trilling, croc offspring chirping, spiny lobsters yelping in self-defense. Hopefully, the hard-won insights he offers will ensure that against the din of outboard motors, excavators, TVs, turbines, and ATVs, nature's polyphony keeps being heard and efforts to save rich soundscapes will continue."
—Earth Island Journal 

"[T]houghtful, insightful . . . Haskell presents a clear-eyed thesis on the impact of worldwide environmental destruction and human noise on what we hear . . . With persistent intelligence and understated wit, Haskell uncovers one subtle mystery after another, forming a gorgeous argument for protecting all we long to hear."
—Booklist

"Haskell's prose is suffused with enthusiasm and poetic in form. The way in which he loads each sentence with information is so animated, it's fair to say this is a book that would talk with its hands if it could . . . Where Sounds Wild and Broken truly glows, however, is in the way it invites readers to imagine the listening experiences of others, breaking down the assumption that we all hear alike."
—BookPage

"Sounds Wild and Broken is a symphony, filled with the music of life. It is fascinating, heartbreaking, and beautifully written."
—Elizabeth Kolbert, author of The Sixth Extinction

"Listen to David Haskell: He will transform the way you hear the world. Haskell is one of those rare scientists who illuminates his topic—the magnificent natural sonic diversity of our planet, what we have to gain from its richness, what we have to lose from its diminishment—in lyrical, erudite prose that both informs and inspires. This masterful book is a gift of deep aural understanding and a resplendent read."
—Jennifer Ackerman, author of The Genius of Birds and The Bird Way

"A joyous celebration of the music of life . . . Seamlessly melding history, ecology, physiology, philosophy, and biology, Haskell exults in the delightful cacophony created by birds and insects, wind and sea, human voices and musical instruments . . . He mounts a compelling warning about 'the silencing of ecosystems,' which 'isolates individuals, fragments communities, and weakens the ecological resilience and evolutionary creativity of life.' Like 'cultural knowledge,' Haskell asserts, 'sound is unseen and ephemeral' and too precious to lose . . . Sparkling prose conveys an urgent message."
—Kirkus Reviews (starred)

"In luminous prose, David Haskell teaches us to hear the beauty and tragedy of the whole history of life on Earth. Sounds Wild and Broken will change the way you listen to nature and to yourself, and may this help us heal our planet before it's too late."
—David Rothenberg, author of Nightingales in Berlin and Why Birds Sing

"A stunning call to reinhabit our ancient communion with sound. David George Haskell's gorgeous prose and deep research meld wonder with intellect, inspiring reverence, delight, and a sense of urgency in protecting aural diversity. The voice of the earth is singing with beauty and need—Haskell shows us the extraordinary gift and responsibility of being available to listen."
—Lyanda Lynn Haupt, author of Rooted: Life at the Crossroads of Science, Nature, and Spirit, and Mozart's Starling

"In Sounds Wild and Broken, David George Haskell once again expands our sensory universe, revealing not only the grand variety of earthly song, music, and speech but the astonishing ways in which sound originates, evolves, and binds us together. His careful listening will sharpen your ears."
—Michelle Nijhuis, author of Beloved Beasts: Fighting for Life in an Age of Extinction

"This brilliant book will change the way you hear everything. Haskell takes us deep inside the music of human and non-human life, revealing one marvel after another, and makes a powerful case for conservation that not only preserves species, but the sensory experience of life itself."
—Jonathan Meiburg, musician and author of A Most Remarkable Creature

"This is how scientific writing should be, and almost never is: suffused with wonder and pathos, throbbing with the music of the wild. Haskell conducts a magnificent symphony here. He shows us – no, lets us hear – that we are resonant animals in a thrillingly resonant universe, and that our fulfilment depends on finding the frequency that will make us resonate with everything else. His superb book sent me on my way singing, and trying to join in with the songs I heard on the way."
—Charles Foster, author of Being a Beast and Being a Human